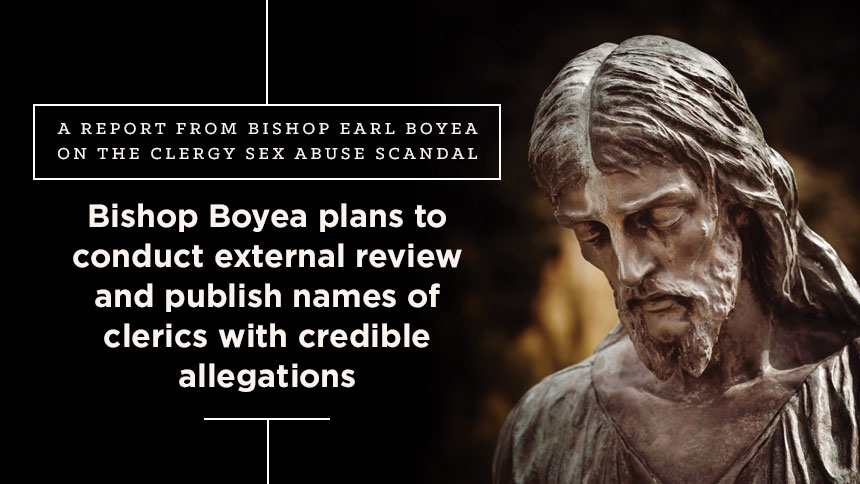 Dear Brothers and Sisters in Christ,
Recently, we have been horrified by more revelations of predatory sexual conduct by Catholic clergy as well as by the abuse of power and sexual sin by a cardinal. The horrid behavior described in a grand jury report from Pennsylvania is shocking. Not only are these acts deeply sinful, they are criminal. Anyone guilty of causing such pain to victims, as well as those at any level within the Church's leadership who protected sexual predators, must be held accountable. Justice demands it. 
I've heard from many Catholics in our own diocese who are saddened and angered. They wonder if such things happened here in our diocese and what was done about it. What follows is a report to you, the faithful, of how this kind of behavior was addressed in the Diocese of Lansing.  
A report to the faithful
The purpose of this report is to update the faithful once again on how the Diocese of Lansing addresses allegations of sexual abuse of minors by clerics. We have issued periodic reports and statements on this since 2002. Links to those appear below, under "Previous statements from Lansing bishops." 
What has the Diocese of Lansing done to address abuse?
First of all, we have a zero-tolerance policy, which means that no one from Church ministry who is found to have sexually abused a minor or vulnerable adult is allowed to remain in ministry in the Diocese of Lansing.  
In 2002, the Diocese of Lansing adopted the Charter for the Protection of Children and Young People, which included several measures. We encourage victims of abuse to come forward, to be heard and to seek healing. We employ a victim assistance coordinator to assist victims. 
We hold accountable any perpetrators who have harmed minors and vulnerable adults. They have no place in Church ministry and are removed from ministry. We encourage anyone with an allegation of such crimes to contact the civil authorities. If a suspected crime has not already been reported to the civil authorities, we report the allegation and cooperate fully with law enforcement.
We engage a Review Board, composed of mostly lay professionals, to assess credibility of claims. We conduct background checks on all clergy members, seminarians and lay workers, including any volunteer who has access to children in our parishes or schools. We train anyone who has contact with children in our churches, schools and agencies how to spot and report possible abuse. We are audited annually on our compliance with these measures, which are found in the Charter for the Protection of Children and Young People. 
Over the years, I have personally met with many victims and listened to their hurt and anguish. Our retreat center has held healing retreats for them. We help victims in whatever way they need to heal, including counseling. 
In light of these recent revelations, I asked all parishes in the Diocese of Lansing to join me in celebrating a Mass on September 14, the Feast of the Exaltation of the Cross, followed by a holy hour in reparation, especially for the sins of bishops.  
I wish I could promise that sin will not ever again enter the heart of someone in Church leadership, causing pain for others. I can, and do, recommit to these measures to create the safest possible environment for everyone in our parishes, schools and agencies. 
Diocese of Lansing is making plans to invite an external agency to review how allegations were handled and will publish the names of clerics who sexually abused children
In addition to our Review Board, I am planning to invite an external agency of lay professionals to audit our files and verify that we have handled allegations appropriately. Their report will be made public on the diocesan website dioceseoflansing.org. Along with that report, we will include names of those clerics who sexually abused children in the Diocese of Lansing. Some names have already been made public or have been widely reported in the media. It is important for victims to see the names of their abusers made public, and it helps victims who have yet to come forward see that they are not alone. It is vital that victims are heard and that they come forward in order to begin the process of healing. 
What is the status of allegations of clergy sexual abuse in our diocese?
It is little comfort to report that the most recent incident of sexual abuse of a minor by a member of the clergy from the Diocese of Lansing occurred years ago, before the Charter was adopted in 2002. For even one incident of sexual abuse to have occurred within our diocese is a betrayal of the highest order. 
To victims of abuse, this is not in the past. It is something they live with every day. One can never apologize enough for these sins and crimes. These were acts of pure evil. To anyone who has suffered abuse, I offer you my deepest apology. This should not have happened to you, certainly not from anyone from our Church. I'm heartbroken that you were abused by someone you should have been able to trust. I am sorry. I pray that God will bring you healing and that you may find the peace of Christ. 
All clergy members who have been found to have abused minors are either deceased or permanently removed from ministry. If an allegation of sexual abuse against a minor has not already been reported to civil authorities, diocesan officials have and will continue to report an allegation. In addition to making sure allegations go to the civil authorities, the diocesan Review Board assesses whether an allegation is credible or not. 
The Review Board comprises members of the clergy, and lay professionals from law enforcement and mental health fields. There has not been an instance when I have not followed the recommendation of the Review Board about the credibility of an allegation. That input, along with complete cooperation with civil authorities, is part of how we determine if a living or deceased clergyman has a credible allegation against him. 
I thank all the victims who have come forward. It takes courage to do so. I assure you that your experience is taken seriously. For healing to occur, it is necessary for anyone who has been subject to sexual abuse to come forward. The Church is committed to helping victims have access to the help they need to heal, both spiritually and mentally.  
Homosexuality, chastity and the priesthood 
Homosexuality is not the same as child sex abuse. However, some people have noted that, unlike the case in general society, most of the victims of sexual abuse by members of the clergy have been boys and men. This has raised the question of whether this is a homosexual problem. 
The Church's teaching on this matter is clear. Sexual activity is reserved for marriage between one man and one woman. It is a sin for anyone to engage in sexual activity outside of marriage. When clergy members are not chaste and break the promise of celibacy, whether with males or females, it is not only a sin, but a betrayal of promises made to God. When clergymen prey on those under their authority or who have turned to them for pastoral care, that is an abuse of power. It damages those involved and causes great harm to the Church. We are all sinners; however, we need to insist on holiness from our clergy. Clergymen who are not committed to living chaste and celibate lives are not allowed to serve in active ministry. We do not accept candidates into the seminary with deep-seated homosexual tendencies or who have demonstrated an inability or unwillingness to be chaste and celibate. 
The accountability of bishops
Finally, this report is an attempt for me to address the fact that we bishops have failed. It is an outrage for anyone, especially a bishop, to hide a crime and cover up an injustice. Bishops who did this need to be held accountable. They add injury to victims and they harm the very priesthood that their office fulfills. To the dedicated clergy members who serve so well, who are unfairly cast under a cloud of suspicion by these sins, I also apologize to you. Our priests and deacons offer their very lives as witnesses to the love of Christ. Bishops who did not hold the predators accountable hurt the entire clergy.  
Along with our priests and deacons, I dedicate my life to know and love Christ and to serve you, the people of God. Just as I would encourage you to contact me if you have a concern about any of our clergy members, you should know where to turn if you ever have a concern about a bishop, including me. You should contact the papal nuncio, who is the Vatican's ambassador to the United States, and also contact the Archbishop of Detroit. 
Furthermore, I agree with and fully support the USCCB efforts to find out what happened in this current crisis, which allowed sexual predators to rise through the ranks of the hierarchy. I support the USCCB effort to involve lay people in a new process to hold bishops more accountable. I am accountable to you, and I welcome your input into how we can do better. 
Hope 
The crisis in the Catholic Church in the United States and elsewhere is not over. It will never be over until the tears of victims are dried, and their healing is complete. Even then, the wound to the Body of Christ will remain. And yet, we are not Catholic because of a priest or a bishop. We are not Christian because of a policy or a promise. We are followers of Christ because he alone is the source of our happiness in this life and the next. He alone can heal the wounds of sin and make all things new. We are Catholic because we believe the Church to be the bride of Christ, the Body of Christ. We pray for Christ to heal these wounds to the victims and to his entire Church. We implore the Holy Spirit to be at work in each of us so that all souls can be one with our Father in heaven.   
Most Rev. Earl Boyea, Bishop of Lansing
209 N. Walnut, Lansing, MI 48933
Email: eboyea@dioceseoflansing.org