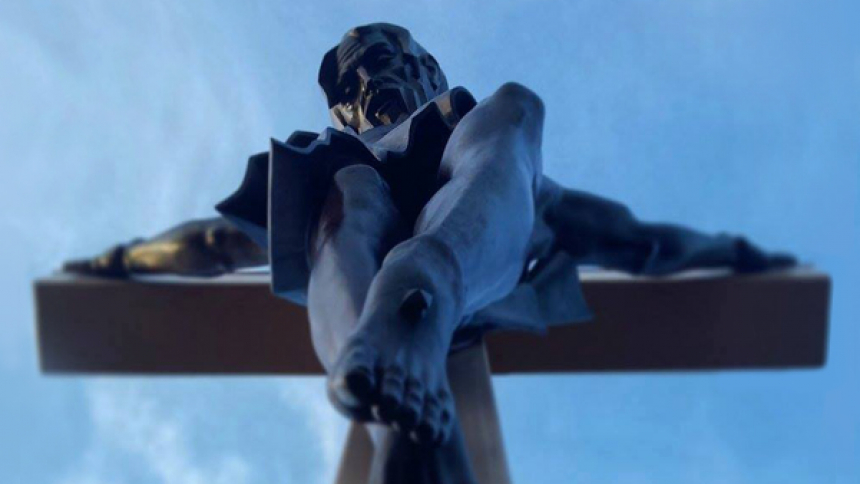 Good Friday is a day we commemorate the crucifixion of our Lord and Savior, Jesus Christ. This is the day of which we remember our Lord giving his life for each of us by dying for our sins so that we may have eternal life with him forever. Traditionally, this day is a day of prayer, silence, and fasting as we ponder the mystery of Christ's death for us that will bring victory over death and open for us the gift of eternal life.
---
Liturgical Resources for the Day
USCCB Readings
Holy Week Liturgies On-Line
Free Access to Magnificat on Your Phone or Tablet
Watch Bishop Boyea's Liturgies Here
---
Ideas to Celebrate at Home
Celebrate with Pope Francis
5:00 p.m. In St Peter's Basilica, Pope Francis will preside over Commemoration of the Lord's Passion.
Stations of the Cross
Use pictures or symbols to mark each station and place around your home or yard. Sing "Were You There?" or "At the Cross her Station Keeping" as you process from station to station. 
Eliminate Distractions
Turn off all electronics for the whole day (especially between 12-3pm) besides possibly a family video of the Passion of Christ or other religiously themed movies
Religious Images
Cover up all the Holy Images in the house until Easter and strip the dining room table bare like the altar at church would be. Wear red today in honor of Jesus' Passion
Read
The Gospel for Good Friday with each person choosing a character in the Passion Narrative.
The Divine Mercy Chaplet
Pray at 3pm as a family. You could also pray the Sorrowful Mysteries of the Rosary. The Divine Mercy Novena begins today as well!
Veneration of the Cross 
Get the biggest crucifix you can find in your house and set it up for a moment of prayer and kissing of the cross.
Make a Crown of Thorns
Use rose stems (if you don't have rose stems, use some other tree branch). Listen to O Sacred Head Surrounded while you make your crown.
Make Hot Cross Buns for Breakfast
You can find a recipe here.