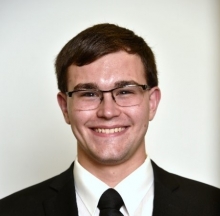 St. Elizabeth Church
506 N. Union Street
Tecumseh, MI 49286
United States
In the early years of Tecumseh High School I found myself wondering about my future, nothing sounded interesting. I considered many careers, but never any of the vocations. It was a difficult question, and while pondering what to do after high school it occurred to me that I had never asked God about it. I immediately began discerning God's voice, because at the time I didn't know how to listen to Him. After a long time I was confident that I could hear Him, so I finally asked Him what He willed for my life, since I know that He will bring true fulfillment and joy. I prefaced my question with a statement about how I knew I would be discerning this for a long time, and how I didn't expect an immediate response, but before I had finished speaking I heard, "Be a priest".
I was shocked; I hadn't considered the priesthood and the idea seemed horrible at first. I quickly warmed up to the idea, and I kept praying for guidance, I talked to Fr. Dan at St. Elizabeth in Tecumseh Michigan, and eventually the Vocation Director Fr. John. The calling has led me to SJV, and I know this is where He wants me now. I am extremely excited for the formation, fraternity, and learning; I just cannot wait to continue my faith journey! Even the short time here has brought me much closer to Him; I simply am excited about everything here!