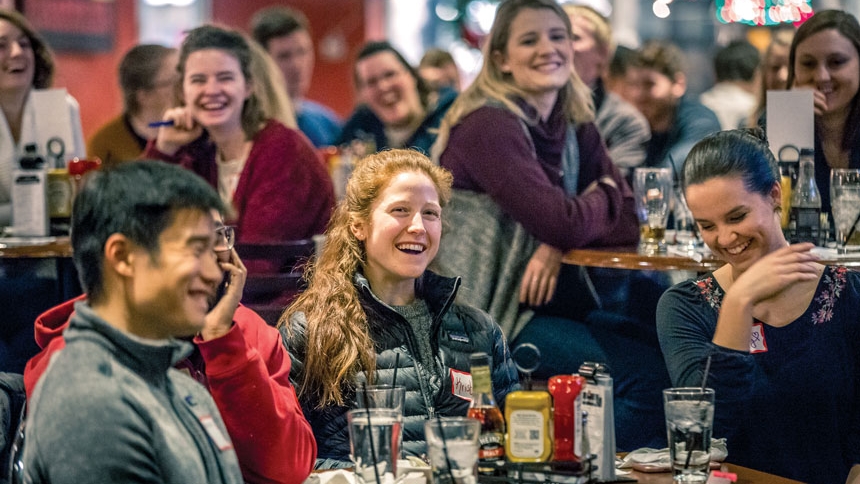 Theology on Tap in Ann Arbor- Q & A with Bishop Boyea!  Tuesday, March 26th 7-8pm at Connor O'Neill's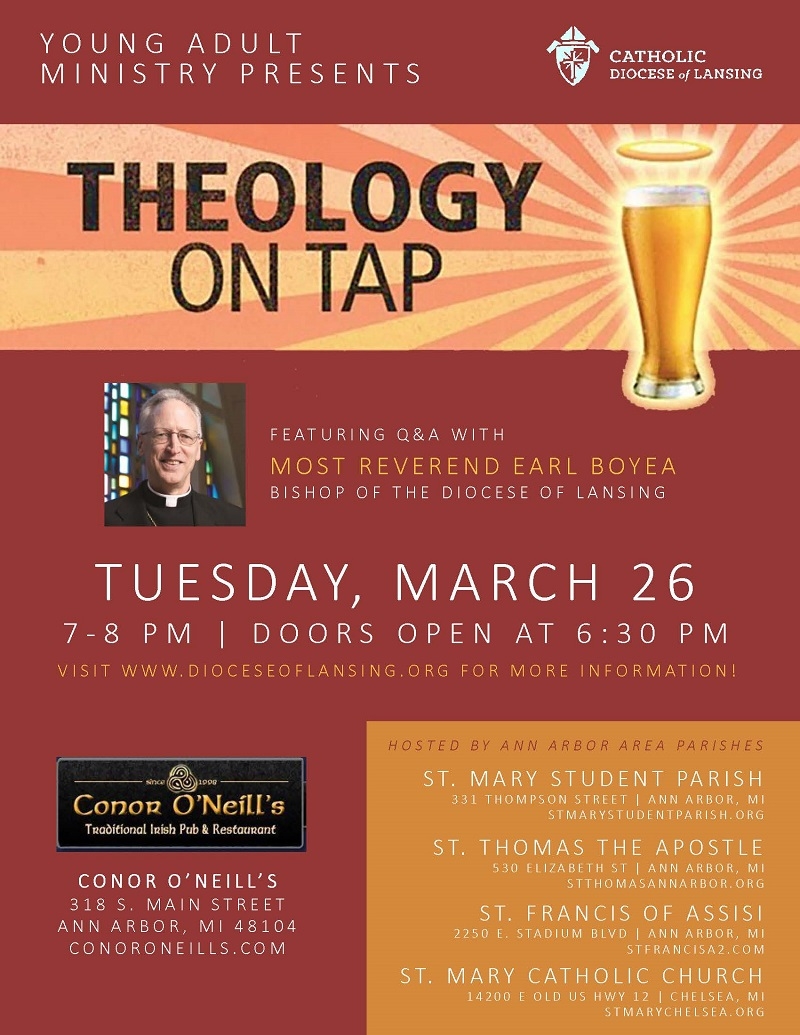 Join us by 6:30pm and socializing after the Q&A until 9pm
The basics of this retreat will include learning the 14 Rules of Discernment  on how to hear God's voice vs. the world, devil, and my own will gone astray.  There will also be focus on using these same principals and applying them to making decisions in one's life – such as discerning a career change, marrying someone or not, renting or buying a house, etc.  There will be time for silence and prayer…active prayer as well as contemplative.  We will have some Ignatian-style prayer exercises as well as one's own free-time to pray as one wishes or wander in nature as well. We will have Mass Saturday and Sunday as well as time for Adoration of the Blessed Sacrament.  This will be a great opportunity for a young adult rest at the Lord's feet for a bit as well as learn some new skills (or sharpen them) for discernment in life's decisions.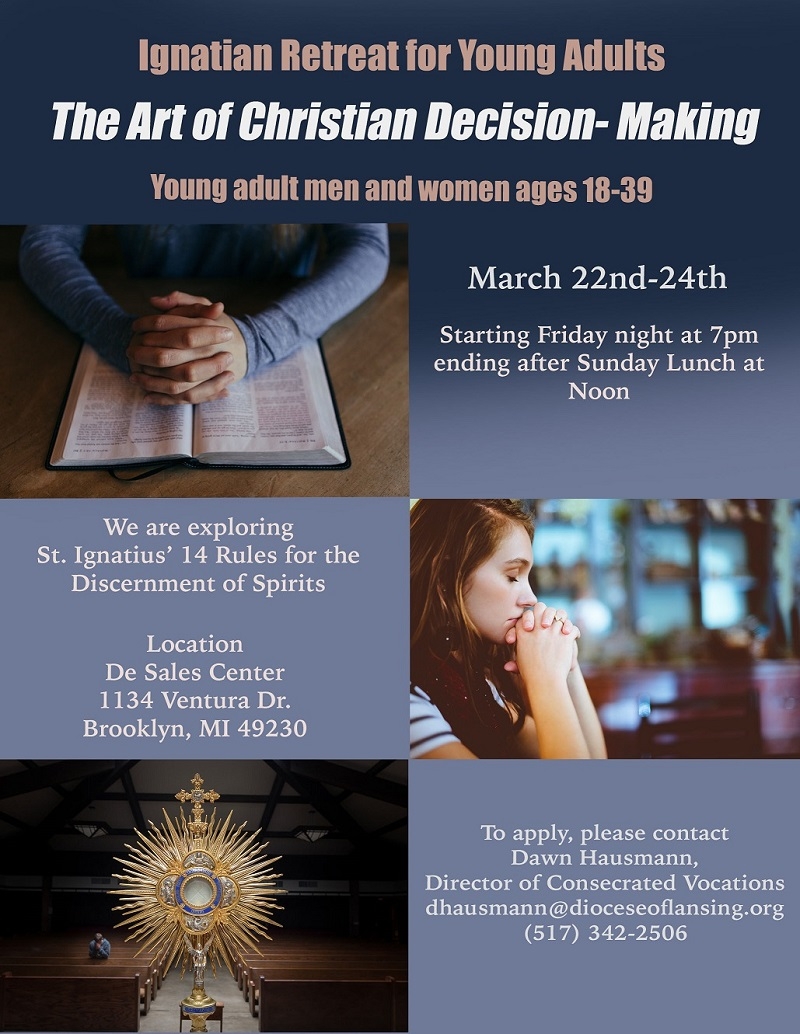 Online Ticketing Powered by Eventbee
Connect with Young Adult Ministry in your area:
Ann Arbor:
St. Francis of Assisi Young Adults
Gen Christ (located at St. Thomas the Apostle Church)
St. Mary Student Center at UofM.  Contact Fr. Joe Wagner 
Chelsea:
Theology on Tap for Young Adults -Contact Mary Lou Hahn-Setta for upcoming topics and dates.
Flint: 
Michael Hasso, Director of Campus & Young Adult Ministry
Jackson:

Contact Clare Kolenda at St. John the Evangelist church to see about getting involved. 
Lansing:
i.d. 9:16 First Thursdays of the month at The Church of the Resurrection  
Young Adult Adoration in the Crypt of St. Mary Cathedral Wednesday evenings- contact Julie Becka
Ultimate Frisbee at St. Gerard Church Sunday afternoons
Grad Students & Young Professions at St. John Student Center
St. Martha Church in Okemos - contact Jarrid Thelen 
Ignatian Retreat: Art of Christian Decision-Making - March 22-24th 2019 contact Dawn Hausmann  
Livingston: 
Livingston YAM actively promotes/engages in the following monthly events:
i.d. 9:16 Disciples' Night - First Thursday of each month - St. Joseph, Howell (Chapter name = i.d. 9:16 Livingston)
Heart of Jesus Holy Hour - Select Saturday 1 x month - July 7 and August 4 are upcoming dates - St. Patrick, Brighton
Monthly Mass & Dinner - Last Sunday of each month - alternating between St. Joe's and St. Pat's Sunday 5pm Mass with Dinner at a local restaurant at 6:30p
Men's and Women's Discipleship Groups - these various in schedule and location with each group
YA Couples' Date Night - previously on the Third Sunday of each month
Summer and Lenten Book Discussions
See Livingston YA Facebook page or Livingston YAM website for more details.
Detroit:
Young Catholic Professionals or 'YCP'