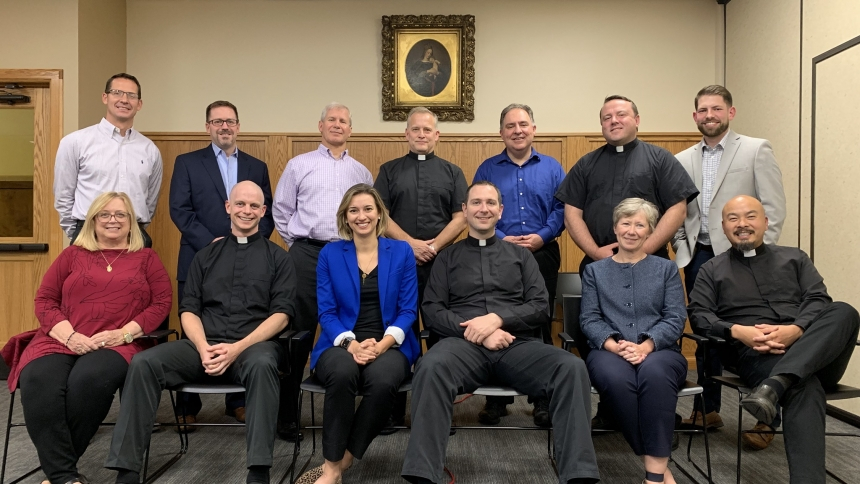 Meet the 14 men and women, clergy and lay, who have been asked by Bishop Earl Boyea to review how the resources of the Diocese of Lansing can be better used to evangelize all those who live within the bounds of the diocese – pictured at their latest meeting, 12 September. They are:
Back Row, Left to Right: Tom Maloney, Superintendent of Catholic Schools, Diocese of Lansing; George Landolt, Chief Finance Officer, Diocese of Lansing; Stephen Nowaczewski, Saint Joseph, Ypsilanti; Father Steve Mattson, Pastor, Church of the Resurrection, Lansing; Deacon Devon Wolf, Saint Mary Magdalen, Brighton; Father Bob Bacik, Pastor, Saint Isidore, Laingsburg and Holy Family, Ovid; Pete Burak, Christ the King Parish, Ann Arbor.

Front Row, Left to Right: Teresa Witt, Saint Robert, Flushing; Father Jim Rolph, Chaplain, Powers High School, Flint; Abby Walls, Saint Mary, Pinckney; Father Mathias Thelen (Chair), Pastor, St Patrick, Brighton; Deborah Amato, Chief of Staff, Diocese of Lansing; Father Chas Canoy, Pastor, Saint John the Evangelist, Jackson. Not pictured: David Kerr, Director of Communications, Diocese of Lansing.