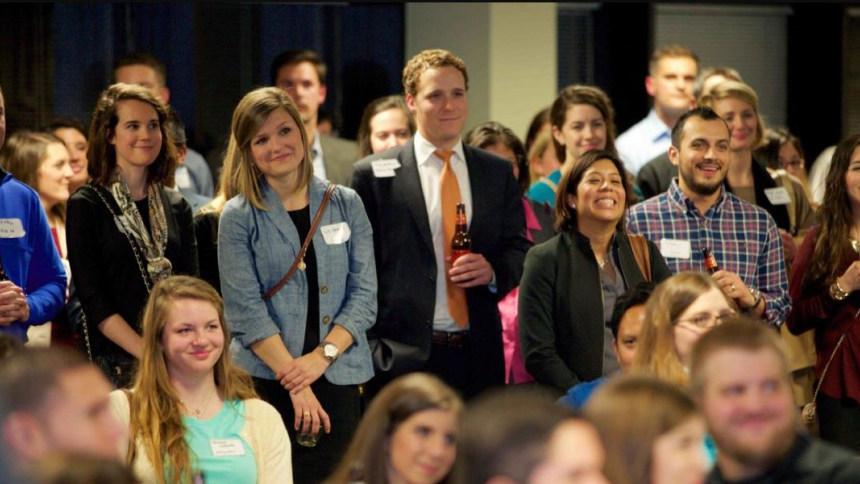 Pope Francis' Post-Synodal Apostolic Exhortation regarding and addressing the Youth (16-29 years of age 'youth') and the whole Church                             
Mission
We are Christ centered.  We strive to provide a vision and services for the development of young adult ministry in the Diocese of Lansing, in its parishes and on its campuses, in order that young adults can experience community within the church and a call to a personal relationship with Christ. We are Catholic Christians (18-30's) who are called, active participation in the life and mission of the Church and good works.
Purpose
The Diocesan Office of Young Adult  Ministry, in collaboration with parishes, seeks to fulfill the four goals of young adult ministry as identified in the USCCB document Sons and Daughters of Light :
Goals
Connecting young adults with Jesus Christ
Connecting young adults with the Church                
Connecting young adults with the mission of the Church   
Connecting young adults with a peer community        
Function
Advocating for the importance of ministry with young adults in all ministry settings.        
Resourcing parishes, campuses, and regional settings who wish to start or enhance their young adult ministry.
Providing training for parish and campus young adult leaders/ministers, volunteer and paid.  
Sponsoring diocesan level young adult programming.
Diocesan Young Adult Advisory
Meets four times a year to advise the Director of Young Adult Ministry and to assist in planning and carrying out diocesan ministries with young adults.
Young Adult Ministry Handbook
Our Young Adult Ministry Handbook is the result of a nine month collaborative process involving the work of our Diocesan Young Adult Advisory committee and readers from parish and diocesan ministries. This handbook serves to provide a vision for young adult ministry based on documents of the United States Catholic Conference of Bishops and the lived experience of those in ministry with young adults. It unfolds for you services and programs offered by our diocesan offices to assist you in developing ministry with young adults in parish, cluster and regional settings. For assistance in developing young adult ministry please contact our office.
Download our Young Adult Ministry Handbook. 
---
Pastoral Response to Pornography
The young adult section of the Pastoral Response to Pornography begins:
" Whether through a stumble on the Internet, a dorm mate's magazine, or a film from a friend, young adults are frequently exposed to pornographic material. Most will ignore it, some may glance in curiosity, others will begin an unfortunate journey towards addiction. The challenges of a positive, healthy, and hopeful response to pornography become compounded by the challenges of ministering to and with young adults as a whole."
Classic ministry options of gathered meetings in the parish hall are infrequently effective. New technologies lead to formation of community and even church in forms quite foreign to many attempting to minister to young adults. Thus, it is important to not only address the issues of pornography, but to do so in a manner that will appeal and be relevant to young adults. 
*You can download a file with the full young adult section filled with strategies and resources for ministry for young adults to the right. 
---
i.d. 9:16
Mission
To form young adults into intentional disciples of Jesus Christ.
i.d. 9:16 seeks to establish communities and provide opportunities where young adults encounter Jesus Christ, hear His call, and decide to follow Him.  This process of intentional discipleship occurs through an orthodox teaching of the Catholic faith, prayer, evangelistic outreach, and the power of the Holy Spirit.  i.d. 9:16 is an outreach of Renewal Ministries dedicated to helping young adults discover their deepest identity as a disciple of Jesus Christ.  
Visit their website for more information.