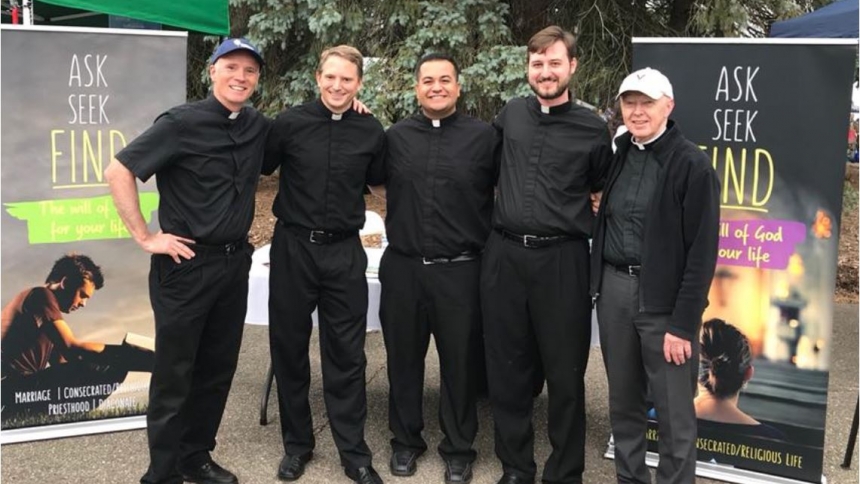 Welcome, we are here to help you!
The Vocations Director, Fr. John Linden (Left , blue cap in picture) has been serving the Diocese of Lansing since 2007.   Father John was born in Tecumseh, Michigan.  His family moved to Onsted and he grew up there and graduated from Onsted High School.  He attended Ferris State University, Jackson Community College and Holy Apostles in Cromwell, Connecticut.  He then spent five years as part of the 3rd order Franciscan Community in South Dakota. After his time, he discerned the call to Diocesan priesthood. He applied to seminary and received his Masters of Divinity through Sacred Heart Major Seminary in Detroit.   During his time as a seminarian, he finished an internship at St. John Parish in Davison and as a deacon he served at St. Patrick Parish in Brighton.  In 2007, he was ordained with Holy Orders as a Priest.  His first assignment was at St. Francis of Assisi Parish in Ann Arbor.   He served this parish for three years until the year 2010 he was asked to join the Formation department at the Diocese of Lansing succeeding Fr. Jerry Vincke as the Seminarian Director.        
If you have any questions regarding discernment to priesthood, ongoing formation and resources please contact Fr. John Linden during the hours of 9:00 a.m. and 5:00 p.m., Monday through Friday at  517-342-2507   or by email to jlinden@dioceseoflansing.org.
(Photo featured left to right)  Seminarian Director, Fr. John Linden, then Fr. John Machiorlatti, seminarians; Miguel Colunga and John Vinton and Msgr. Bernie Reilly