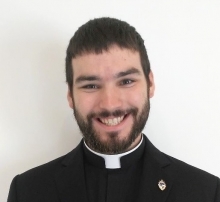 St Peter Parish
515 E Knight St
Eaton Rapids, MI 48827
United States
I grew up in Dimondale, a small town just outside Lansing, with my parents and ten younger siblings.  Since childhood, my family has gone to St. Peter Church in Eaton Rapids.  Growing up in a strong Catholic family, it was always easy to look like a good kid.  But when deeper spiritual struggles came into my life, I found myself drifting away from the Lord in my heart.
Then, as a sophomore in high school, I heard a still, small voice call to me to change my attitude and enter into a new life of joy.  As I began to really live again, I fell in love with Christ and His Church.  Little by little, in prayer and in service, I realized that this new life of joy might involve becoming a priest.  There were some serious financial obstacles to joining seminary, but God opened the doors to seminary through scholarships and the generosity of the People of God.  I was able to enter St. John Vianney College Seminary at the age of 17.
I spent four wonderful years in college seminary where I made lifelong friendships and discovered again and again the love our Father has for each one of us.  Now, the Lord has called me across the pond to study at the Pontifical North American College in Rome.  I look forward to building new relationships here, rediscovering the Father's love, and beginning studies in Theology.  God willing, I will be ordained a priest in 2022.