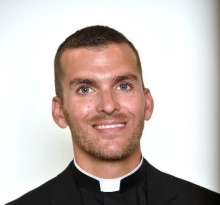 St. Mary Church
P.O. Box 267
Westphalia, MI 48894
United States
I grew up attending St. Mary in Westphalia. I can remember thinking about the priesthood from an early age. When my childhood pastor, Fr. Bill Ashbaugh, came into the classroom, I would think, I could be like Fr. Bill. While attending the University of Michigan, the thought of priesthood returned, even when I didn't feel close to God. Although I imagined a career in campaigns or communications, I remember feeling that the Lord might be leading me in a different way. After graduating in 2008, I worked for Michigan State University and lived in East Lansing, where I attended St. Thomas Aquinas/St. John Church & Student Center.
My time of serious discernment before seminary took place over a couple years and started with a surrender to the Lord. I knew I wanted to grow closer to Christ, but I needed to make the decision to follow Him more intentionally. As I grew in my relationship with Christ through prayer, scripture, the sacraments, and discipleship groups, I experienced greater peace and joy in my life, as well as a growing desire to help others get closer to Him. Despite building up a career and enjoying those comforts, I was filled with the growing sense that I could give more to the Lord.
It was truly in my relationship with the Lord that I was able to hear and understand His will for me. I had to know Him more intimately and grow to a place of trust with Him. Thankfully God is patient and continues to pursue. To be in seminary is an awesome gift, an opportunity to grow in love for Him and deeper trust. God, in His goodness, is pursuing us!