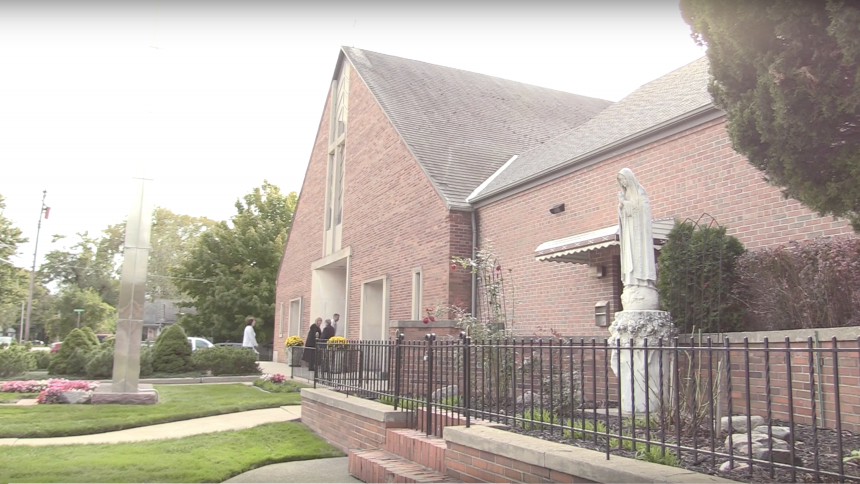 Congratulations to the church of St Mary's in Flint who this month celebrated their 100th anniversary. Ad multos annos!
"St. Mary is an anchor on the eastside of Flint, still shepherding its flock," said lifelong parishioner, Timothy Sevo, "while also giving back to the community with a neighborhood food pantry, instrumental in supplying water to local residents affected in the city's ongoing water crisis, and home to the shrine of Mary, Mother of Flint."
St Mary's was dedicated under the Marian title of The Immaculate Conception on April 5, 1919.  The original church building, which still stands, operated from 1921 to 1955 when the present church was built. A parish school was in session from 1925-1992 but that building was demolished in 2015. The church's centenary was celebrated with Holy Mass on Saturday, 5 October. On the sanctuary were several former clergy of the church, while the pews were similarly occupied by many former parishioners.
Despite the relative poverty of the surrounding neighborhood coupled with a continuing drop in numbers of local practicing Catholics, those present were urged to reject the notion that decline was inevitable.
"That's why we are here, we are going to reverse the situation," said Fr. Tom Firestone, Pastor of the Catholic Community in Flint, "We are going to walk the streets, we're going to knock on the doors, and we're going to tell people that the Lord is here and to come to this church."
So happy 100th anniversary to all the clergy and lay faithful associated with St Mary in Flint. Our Lady, Immaculately Conceived, pray for them!