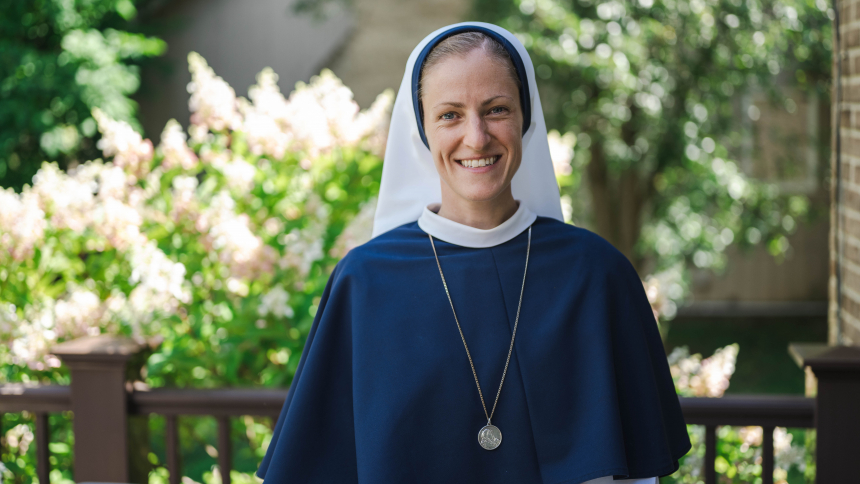 Helping pregnant women in need. That's what the Sisters of Life do and that's where Sister Maria Regina Immaculata, SV, has found her happiness.
Sister Maria Regina remembers, though, how during her high school years in Ann Arbor, Michigan, she saw at firsthand "how ravaging the culture was on my friends," despite the fact they "were doing everything our culture said would make you happy," including "pleasure, money, everything you can think of, but it left them empty."
The more Sister Maria Regina searched her own heart, the more she concluded that she was being drawn to something greater. There was a love out there that surpassed anything she could ever find on this earth. That love was to be found in the tabernacle.
"The Lord was offering me a spousal love, something in my heart knew I was being offered this love that encompasses my entire being, that wants to put a claim on my entire life, and all I want to do is respond to that," she recalled.
Sister Maria Regina made her final vows to the Sisters of Life in New York in 2018. The relatively new religious order are dedicated to witnessing to the value of human life. The sisters run a crisis pregnancy center for moms in need, host retreats, evangelize on college campuses, and provide hope and healing by accompanying post-abortive women. Sister Maria Regina currently serves as the order's Director of Vocations.
Upon Vocations Awareness Week 2022, please pray for Sister Maria Regina and for all women within the Diocese of Lansing who are discerning a call to consecrated life.
* For more information on the Sisters of Life, visit www.sistersoflife.org.
* For more information on consecrated life, contact Dawn Hausmann at the Diocese of Lansing's Office for Consecrated Vocations at dhausmann@dioceseoflansing.org or 517-342-2506