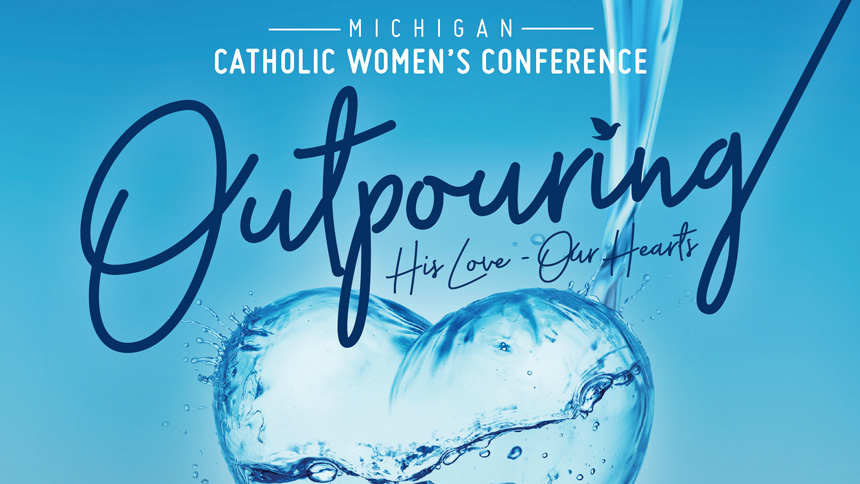 On Saturday, October 16, over 1000 women from across the state of Michigan gathered in Lansing to participate in the first-ever Michigan Catholic Women's Conference.
"It's amazing today to have so many women here, and the speakers have really spoken to the hope that we had for this conference, which is that outpouring of God's love," said Becky Loveland of the Conference Planning Committee.
"We're hearing that we're not in control, that we are His beloved, that we are His beloved daughters, and that we are here to receive His love. It's amazing to see people from all over the state here, in the center of our state, celebrating the love of God."
The all-day conference was held at the Lansing Center under the title of "Outpouring His Love – Our Hearts". It featured various keynote speakers including Sheri Wohlfert; Kelly Wahlquist; Father Joe Krupp and Father Adam Maher. There was also music from Melanie Rea and Band and drama from the Magic Carpet Theatre. During breaks, those present took time peruse numerous stalls selling an array of Catholic products.
Throughout the day both the Sacrament of Reconciliation and Eucharistic Adoration were readily available. Fittingly, the event concluded with Holy Mass offered by both Bishop Earl Boyea of Lansing and Bishop Robert Gruss of Saginaw.
"Our conference committee hoped that today would be a day where women walked out the door feeling God's love, that they left their baggage outside of the conference when they came in, and they walk out feeling that love," said Becky.
"And if just one woman walks away with that feeling in their hearts, this day will have been successful."
• Next Year's Michigan Women's Catholic Conference will be held on Saturday, October 15, 2022.