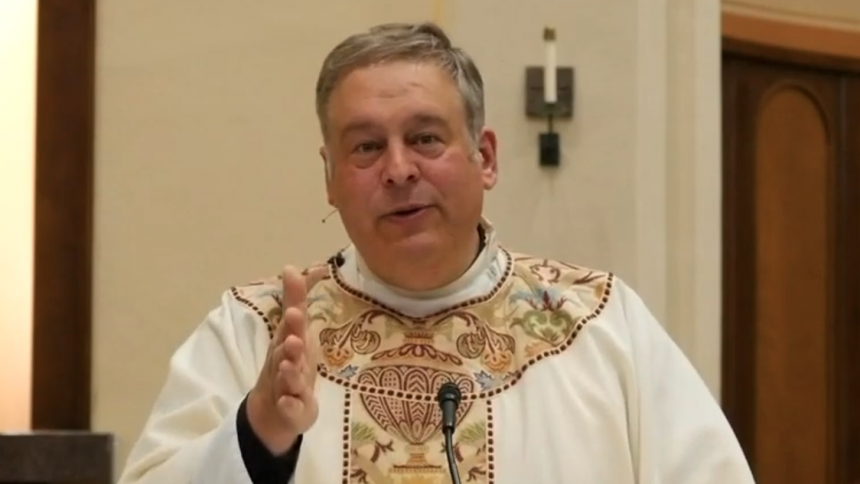 There has been a huge outpouring of grief, affection and prayers for Father David Hudgins, lately Judicial Vicar of the Diocese of Lansing and Pastor of Saint Joseph Shrine in Brooklyn, since news emerged of his death in a car accident on Monday, January 3. May he rest in peace.
Here's a wonderful video of Father Hudgins giving great testimony to his trust in the power of Jesus Christ's cross and resurrection, as mediated through his Holy Church, to forgive our sins and restore us to fulness of life including, of course, life eternal. It was recorded upon Divine Mercy Sunday, April 19, 2020, at Saint Mary Cathedral in Lansing.
"If I say 'All my sins are so great, and I'm so, so bad, and how can God possibly forgive me?' That is denying the sufficiency of the Cross of Christ!" said Father Hudgin's reflecting upon the gospel passage of the day which recounted the Apostle Saint Thomas's skepticism toward claims of Christ's resurrection.
"Is there something lacking in the Cross of Our Lord Jesus Christ? Is His grace somehow insufficient for me and my sins? Unthinkable! Unthinkable!"
"And the answer to both of these problems and the denying of the power of the Cross of Christ? The answer is right there at the bottom of the Divine Mercy image, which you can Google, 'Jesus, I Trust in You."
The Requiem Mass for the repose of the soul of Father Hudgins will take place at Saint Mary Cathedral at 10am on Saturday, January 8. The principal celebrant is Bishop Earl Boyea. The homilist is Father James Hudgins of the Diocese of Arlington, Father David Hudgin's brother. The Mass will be live-streamed on both the Diocese of Lansing YouTube channel and Facebook page. Please continue to keep Father Hudgins, and all who mourn him, in your prayers in the days to come.
Eternal rest grant unto him, O Lord, and let perpetual light shine upon him. May he rest in peace. Amen.
May his soul and the souls of all the faithful departed, through the mercy of God, rest in peace. Amen.