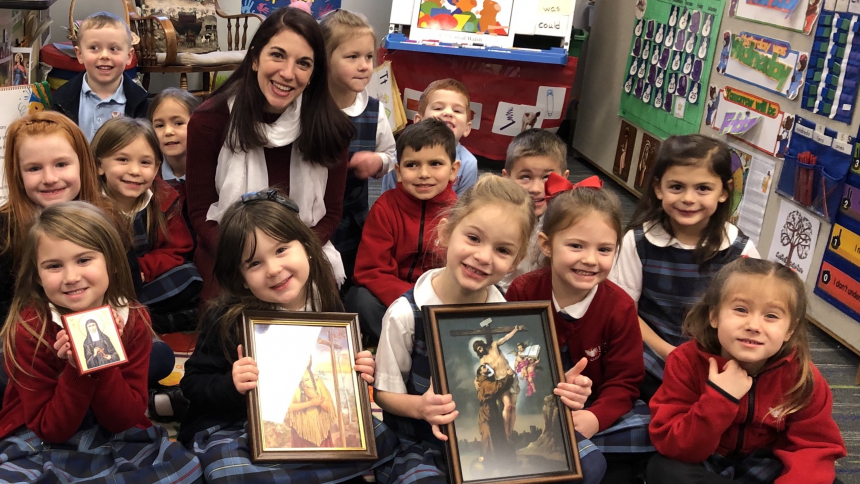 Parents who make the financial sacrifice to give their children a Catholic education will find that a Catholic school gives them unparalleled support in their parental efforts to raise happy and holy children who are imbued with knowledge, wisdom, and virtue – so said Bishop Earl Boyea of Lansing at the conclusion of Catholic Schools Week 2020.
"I urge parents: make the sacrifice. It is worth it! It is worth it!" said Bishop Boyea, February 2.  
"There's no guarantee that kids are going to come out angels, that's not my point, but the odds are they're going to be a better person in our environment and I think that that's something that parents need to hear."
Bishop Boyea's comments came in a wide-ranging interview during which he assured parents that their choice of a Catholic school within the Diocese of Lansing will be rewarded with an academically excellent and authentically Catholic education.
"The aim is to make sure that they [our schools] are Catholic and I think we've really been trying to do that," he said.
"I think it starts all levels first of all, you know, we want to make sure that we are providing these young people with the heritage, the Catholic heritage, which is massive – I mean it's in every area of knowledge and it's important that they be exposed to that."
"But I think it also extends to the spiritual formation that they're supposed to receive: Mass and Confession and spiritual practices and other forms of piety, respect for their parents, respect for elders, all of these kinds of things."  
Bishop Boyea said he believes that a Catholic school provides a "really unique advantage for children" and also for parents as primary educators of their sons and daughters in matters of faith and morals.  
"I think that's what we're really trying to do and, I think, we're doing a pretty good job of it frankly, yeah."
The Diocese of Lansing contains 28 parish elementary schools and four regional high schools. Each Catholic school attempts to assist parents in forming their children to become happy and holy young people who fulfill their God-given potential. To find out more about Catholic schools go to: https://dolcatholicschools.org/