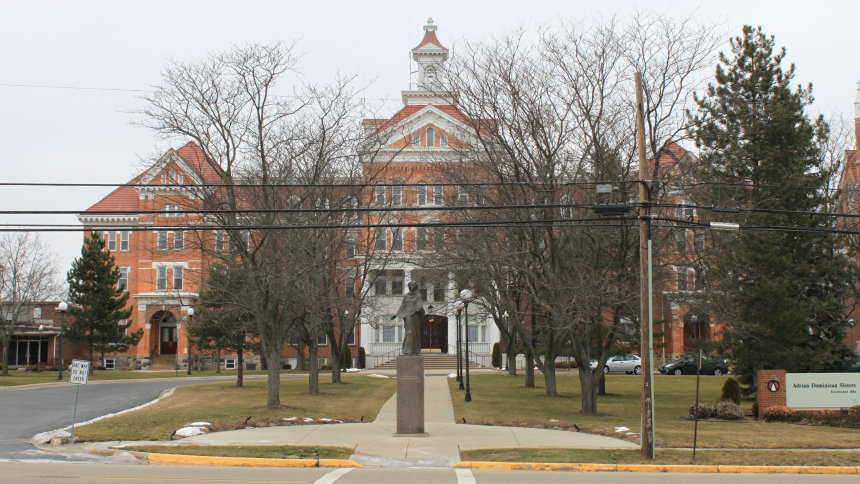 Of your charity, please pray for the repose of the souls of nine Adrian Dominican Sisters who have died over the past two weeks following an outbreak of COVID-19 at the order's Motherhouse in Adrian. May they rest in peace.
"With great regret, I was informed today of the death of nine of our Adrian Dominican Sisters due to COVID-19. May they rest in peace. It is all the more bittersweet to learn of this sad news upon the Feast of Saint Thomas Aquinas, usually a day of great festivity for the Dominican order," said Bishop Earl Boyea of Lansing, January 28.
"The Adrian Dominicans have been an integral part of the fabric of Catholic life in this part of Michigan for over a century. Hence, they are well-known and much-loved by many within the Diocese of Lansing. I would like to assure Sister Patricia Siemen, Prioress, and all the Adrian Dominican community of my sympathy, prayers and support in the days and weeks to come. Saint Dominic, pray for them."
In total, the female religious community in Adrian, Lenawee County, have had 46 positive cases of COVID-19 so far with 25 recoveries and 12 cases still active. The General Council of the Adrian Dominican Sisters issued the following statement on January 14 regarding the current outbreak of COVID-19 at their Motherhouse:
"After more than nine months of no cases of COVID-19 among resident Sisters, we are now experiencing an outbreak among both Sisters and Co-workers at the Dominican Life Center. The care and safety of our Sisters and Co-workers have been and remains our primary concern. We continue to practice stringent protocols, including quarantines, to mitigate further spread of the virus."
"Our prayers rise like incense for all impacted by this global health crisis: the sick and dying, their families, and all healthcare workers and people everywhere who generously and selflessly provide essential services to each and every one of us. Please join us in this prayer."
The Adrian Dominican Sisters, whose official title is the Congregation of the Most Holy Rosary, were founded in 1923. They operate apostolates in 22 states across the U.S. as well as in the District of Columbia, Puerto Rico, the Dominican Republic, and the Philippines. They have 507 sisters. The order is the founder and sponsor of Siena Heights University in Michigan.