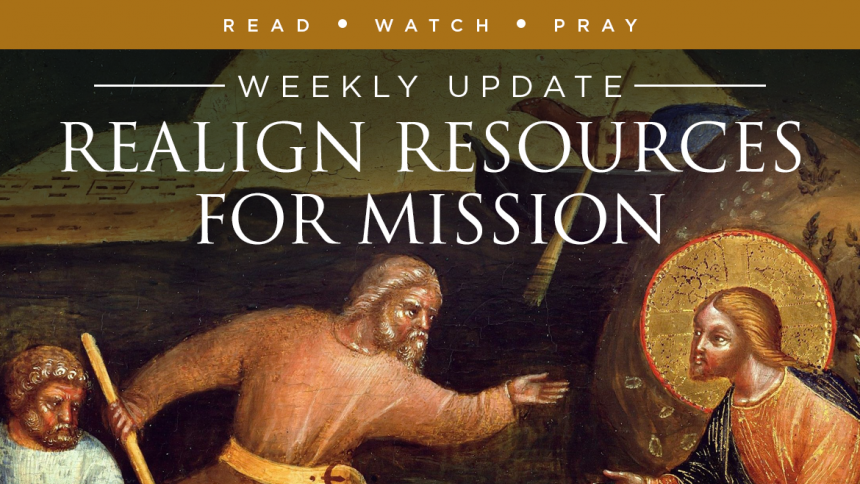 Welcome to the concluding Realign Resources for Mission Weekly Update. Happy Feast of Martyrs of Iona! 
 
Over the past eight months, week by week, these updates have explored each of the principles underpinning the proposal of the Realign Resources for Mission Committee for the future of the Diocese of Lansing. 
 
After two years work, the 13-person committee submitted their Key Findings and Recommendations to Bishop Earl Boyea of Lansing in November 2021. This month Bishop Earl Boyea has given his official response. Hence, in this final weekly update you can:
Read Bishop Boyea's response, first published in January's edition of FAITH Magazine, the official publication of the Diocese of Lansing, in which he outlined his response to the recommendations of the RRM Committee and also provides some next steps for implementation.
 
Watch a video by Deacon Devon Wolfe of Saint Mary Magdalene Parish in Brighton. Deacon Devon was a member of the Realign Resources for Mission Committee. He has now been asked by Bishop Boyea to chair a new Implementation Steering Committee. The committee will meet for the first time on January 24, 2022.  
 
Pray that the Realign Resources for Mission project yields great apostolic fruit among our families, our friends, our parishes, our schools and across our wider community in order to draw all souls to Jesus Christ for it is "in him we live and move and have our being" (Acts 17:28)
Lansing
January 2022
Dear Sisters and Brothers in Christ,
On November 1, 2021, the final recommendations of the Realign Resources for Mission Committee were presented to me. Because we want to become ever more focused on our mission from Christ, these are two key takeaways from their report:
* Addressing the need to evangelize better requires strong parish leadership and a culture of discipleship and conversion within our parishes.
* The structures within our diocese must serve the mission.
The committee has recommended some structural changes that will enhance our ability to evangelize the people of these 10 counties of the Diocese of Lansing: 21 parish groupings and three standalone parishes.
I have accepted their recommendations and thank them for their diligent prayer, work and consultation over these past two years. The plan is flexible, and changes will no doubt be made in the coming years. However, it is now time to begin implementation of some of these groupings starting in July 2022.
The first step of a phased approach to implementation is to select those groupings that are willing to serve as "early adopters" to test and hone the process. As you recall, leadership (priests, deacons, lay ministers) working together, striving for health and holiness, and leading all the faithful to be alive in Christ and seek to share Christ with others is required in order to more faithfully Announce the Gospel of the Lord.
In consultation with the Priest Assignment Board and Mrs. Deb Amato, who will lead our implementation, we discerned eight groupings to invite to be early adopters. I then called the potential moderator (like a lead pastor) of each grouping to see if he would be willing to lead the other priest(s) in the grouping. The moderators' first task will be to gather their brother priests together in prayer and discernment to develop a covenant. This will guide their becoming a Communion of Priests who are together on mission. This agreement will also determine who will lead the parishes in the grouping to fulfill the mission together. Each parish will retain its identity, but ever more integration and collaboration will be the means for us to achieve Christ's Mission to us.
So, I made the calls to my brother priests to determine their willingness to be moderators. Once their agreement had been given, I contacted the other priests in each grouping to ask if they would be willing to pray and minister in solidum (the canonical term found in Canon 517.1 which means together or as a whole). We might see this as a form of solidarity in ministry. It will be the duty of these priests to engage the deacons and lay ministers in their parishes.
Even though achieving an in solidum covenant will most likely continue past next July, my hope is that these brothers can begin some work already before next summer. It is also my hope that the priests in the other groupings will begin conversations as well to determine how they might begin collaboration even without a formal implementation this coming summer.
These are the eight groupings and their moderators who are ready to set out on this pilgrimage of mission:
The Eastern Ingham grouping of St. Martha in Okemos and St. Mary in Williamston, with Father Michael Murray as Moderator.
 
The Eastern Washtenaw grouping of Christ the King in Ann Arbor, St. John the Baptist in Ypsilanti and St. Joseph in Whitaker, with Father Ed Fride as Moderator.
 
The Hillsdale grouping of Sacred Heart in Hudson, St. Mary on the Lake in Manitou Beach and St. Anthony of Padua in Hillsdale, with Father Todd Koenigsknecht as Moderator.
 
The Jackson grouping of St. Mary Star of the Sea (and St. Stanislaus Oratory and Sagrada Corazon Community) in Jackson, St. John the Evangelist (and St. Joseph Oratory) in Jackson, St. Catherine Laboure in Concord and Queen of the Miraculous Medal in Jackson, with Father Timothy MacDonald as Moderator.
 
The North Lansing grouping of St. Mary Cathedral in Lansing, St. Andrew Dung-Lac in Lansing, Resurrection in Lansing, St. Therese in Lansing and St. Jude in DeWitt, with Father Karl Pung as Moderator.
 
The South Washtenaw grouping of St. Andrew in Saline, St. Mary in Manchester and Immaculate Conception in Milan, with Father John Linden as Moderator.
 
The Western Washtenaw grouping of St. Joseph in Dexter and St. Mary in Chelsea, with Father Brendan Walsh as Moderator.
Another grouping, which as of the writing of this text has not been finalized. Obviously, we have a lot of work to do to put flesh on these bones. But as the prophet Ezekiel saw, it will be primarily the breath of the Spirit of God which will bring these simple beginnings to a good and holy conclusion.
Sincerely yours in Christ,
Most Reverend Earl Boyea
Bishop of Lansing
Watch: Here's a video by Deacon Devon Wolfe of Saint Mary Magdalene Parish in Brighton. Deacon Devon was a member of the Realign Resources for Mission Committee. He has now been asked by Bishop Boyea to chair a new Implementation Steering Committee. The committee will meet for the first time on January 24, 2022. In this video, he outlines some more of the next steps of the RRM implementation protest.
This Week's Friday Prayer Intention: 
Pray for our beloved priests: That Our Lady, Queen of the Clergy, accompanies them daily as they strive for ever greater health and holiness. 
Guidelines for Friday Prayer:
Prayer: At three o'clock each Friday afternoon pray the Sorrowful Mysteries of the Holy Rosary of the Blessed Virgin Mary. To help with prayer, Eucharistic Adoration from Saint Mary Cathedral in Lansing will be live-streamed on YouTube and Facebook. If you can't manage to pray at 3pm? Just say the Holy Rosary whenever you can.
Fasting: The present norms for fasting suggest that we eat no more than one full meal, as well as two smaller meals that together are not equal to a full meal. It is also permissible to attempt a strict fast. A penitent's age and health should always be taken into consideration before fasting.
Almsgiving: Giving alms is a "work of justice pleasing to God" (Catechism of the Catholic Church, no. 2462). Hence, each Friday we should donate money or goods to the poor or perform another act of charity. Let's not reach sundown on a Friday without having poured out some of the content of our heart or our wallet or both during the day.