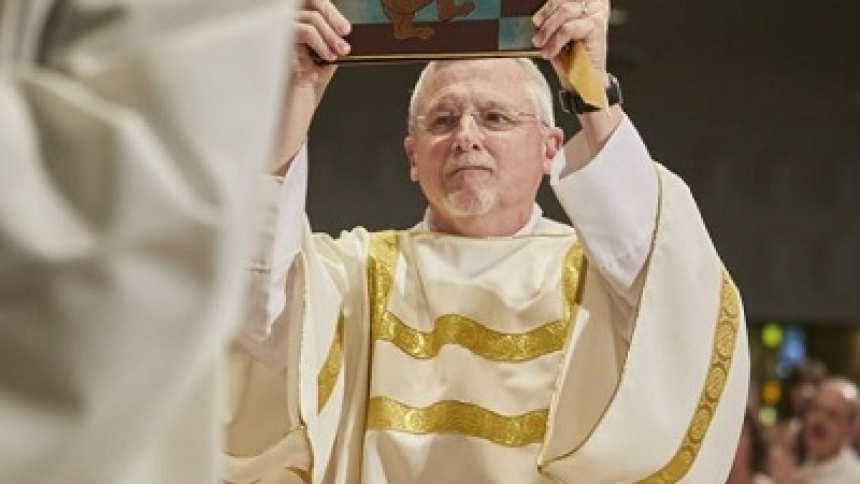 Upon Day 5 of National Vocations Awareness Week, meet Deacon Randy Desrochers, Director of Diaconal Formation for the Diocese of Lansing.
A retired hospital and military surgeon, Deacon Randy and his wife Carol have just celebrated their 41st wedding anniversary. Together they have four children; two grandsons, Jackson and Levi; and a granddaughter, Avila Marie, who was born in November 2020. Deacon Randy was ordained to the permanent diaconate in 2013.
Deacons can baptize; proclaim the Gospel; preach the homily; assist the bishop or priest in the celebration of the Eucharist; assist at and bless marriages; and preside at funerals. They also dedicate themselves to charitable endeavors, which was often their role in the early Church.
Since the Second Vatican Council (1962-65), the Catholic Church has restored the diaconate as a permanent rank within the hierarchy of Holy Orders as opposed to "transitory" deacons who will, in due course, be ordained to the priesthood. Permanent deacons can be either married or unmarried men. Upon National Vocations Awareness Week 2021, Deacon Randy writes:
"I have been blessed to have served as an Army Officer as well as a deacon. I say blessed in that I am one of those people drawn to service that 'gives me a real reason to get up in the morning'," writes Deacon Randy, November 11.
"Both the military and the diaconate gave and continues to give me that opportunity. I have never believed that my life was my own but a gift from God to be used in the service of others. In my younger days I answered the call to serve both God and country as an Army surgeon. Now in my later days I have answered the call to serve both God and his people as a deacon."
• If you would like to know more about the Permanent Diaconate contact Deacon Randy Desrochers, the Director of Diaconal Formation for the Diocese of Lansing at 517-342-2571 or rdesrochers@diocesoflansing.org.