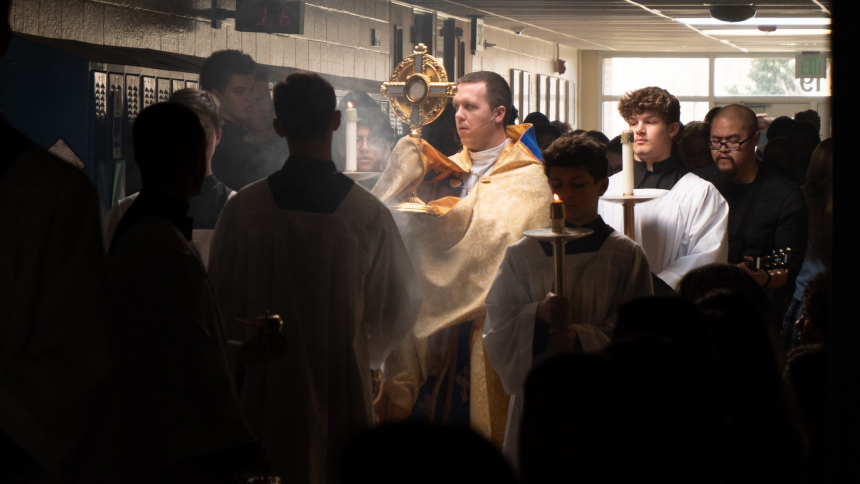 Did you know that all four Diocese of Lansing high schools have full-time chaplains? It's an incredible blessing. Deo gratias! At Lansing Catholic High School that man is Father Joe Campbell.
"I feel like a lot of my job is to encourage people," says Father Campbell in this month's FAITH Magazine, the official publication of the Diocese of Lansing.
"In a parish, the priests are — for better or for worse — in charge of the whole operation. But here at the high school, the chaplain is not in charge," he says, "I'm here and I'm part of the leadership team, but my focus is, first of all, the liturgy and sacraments."
Father Campbell hails from Ann Arbor and is one of ten children. Ordained to the sacred priesthood in 2017, he served as Parochial Vicar at Saint Patrick Catholic Church in Brighton before being appointed to Lansing Catholic in 2021.
"I also try to be a listening ear, if a student or staff member wants to just talk through some things," he says. "It's my role to be a spiritual guide through those things as well, and to pray with people."
While he focuses on faith formation, Father Campbell is realistic about the amount of time he has to make an impact on the spiritual growth of Lansing Catholic students.
"Students are here for four years, tops, and then they're gone. And a lot of these kids, you might never see them again," Father Campbell says.
"Whereas at the parish, if you have a family that's really connected to a place, they might have been there for 30 or 40 years and their kids might still be there, and their grandkids. There's this much longer-term relationship that develops."
That said, there are upsides on campus.
"The good news is I have a captive audience five days a week for eight hours a day," Father Campbell smiles. "At a parish, I'd get them at the most on Sundays for an hour, plus the odd extra event. But the actual time I have with the students? It's much more focused, condensed and concentrated."
Although Father Campbell says he was prepared well for his work at Lansing Catholic, some aspects of his role have nevertheless been surprising.
"There are still things that once you're actually living it and experiencing it, like, 'Oh, OK, this is what it's actually like," he says. "So, this is a little thing, but just how structured the day is, I didn't really think about that. But the bell schedule just rules the day, everything is dictated by that, which is nice in some ways and challenging in other ways."
One other surprise?
"I wasn't really planning on teaching very much," Father Campbell says. "I didn't think that that was really part of the role, but I have been teaching a little bit more this year. And I really didn't have any training on how to teach. But I'm learning fast, and from some of the best teachers there are."
Typically, a school chaplain remains in the role for five or six years. But Father Campbell wouldn't mind if it lasted a bit longer.
"You just never know," he says. "A lot can happen, but I love being here. I'd be happy to be here for a while."
• To read more from this month's FAITH Magazine go to: https://faithmag.com/