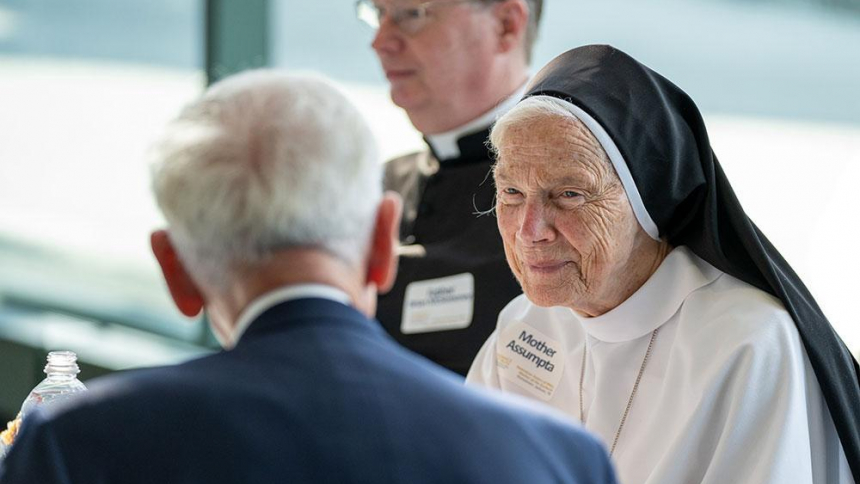 May is the month of Mary and, fittingly, the month of Mother's Day. That's why the latest edition of FAITH Magazine celebrates motherhood including a great interview with Mother Assumpta Long, OP, below, who served as 24 years as prioress general of the Ann Arbor-based Dominican Sisters of Mary, Mother of the Eucharist, until two years ago. So what does the title "mother" mean to Mother Assumpta? 
"It means that you love and care for each sister," she said, noting that the prioress general is responsible for making sure the sisters' spiritual, physical and educational needs are fulfilled within the community.
"You challenge them when needed, you carry them when they may be weak, you support them in their needs. Of course, you always pray for them," she said.
The role of a spiritual mother is something that Mother Assumpta takes seriously, counting on help from the most loving of all mothers — the Blessed Virgin Mary.
"When Juan Diego met her, she said to him, 'Am I not here, who am your mother?' He went to her for all the little things," Mother said. "We can look to her for anything. She cares for each one of us and will do anything for us that would lead us to her Son."
Mother and the sisters have Mary's maternal care as their model within the classroom, within community and with each soul they meet.
"I could do no better as a spiritual mother than to love, care for and do everything I can to bring everyone I meet in contact with her Son," Mother said.
Mother Assumpta's role as a mother has changed in recent years. In the Dominican Order, the prioress general is an elected role served in six-year terms. Mother Assumpta handed over the reins to Mother Amata Veritas Ellenbecker in 2021.
* To read more of FAITH's interview with Mother Assumpta which was conducted by Sister Irenaeus Schluttenhofer, OP, click here: https://faithmag.com/unique-kind-motherhood