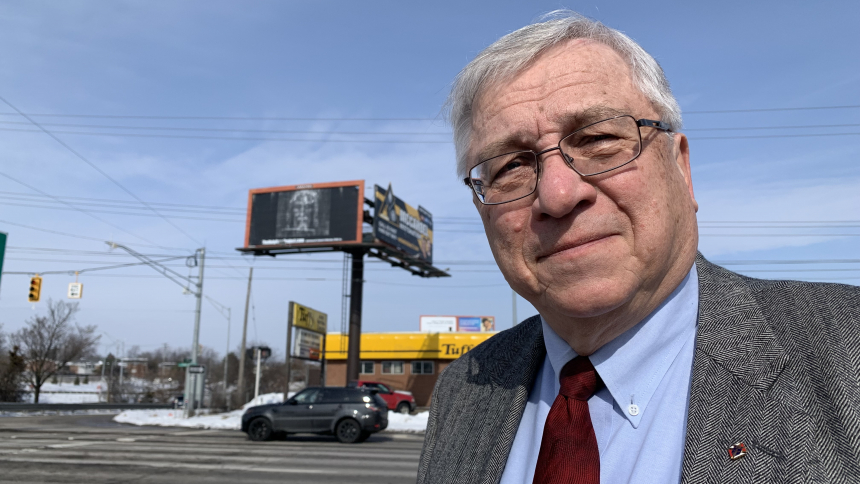 Tony Cherniawski has a very singular Lenten resolution: That all may see the face of Christ and draw closer to his Divine Love. That's why the Lansing father-of-seven, and grandfather-of-14, is raising funds to pay for billboards featuring the Holy Face of Jesus throughout Michigan's capital city.
"The best advertising is repetition and, so, if you can have something in a place where people will see it on a consistent daily basis, eventually there will be an interaction – in advertising they call it brand recognition but, in this case, I call it 'Christ recognition'."
The face portrayed on Tony's billboards replicates the face depicted on the Shroud of Turin, the length of linen cloth that many believe be the burial shroud of Jesus Christ. The shroud has been kept in the royal chapel of the Cathedral of John the Baptist in Turin, in northern Italy, since 1578. While the Church neither formally endorses nor rejects the veracity of the shroud, it has long been a source of inspiration and site of pilgrimage with Pope Francis describing it in 2013 as an "icon of a man scourged and crucified".
"For some people, the Holy Gospels are but words in a book; for others, they are even viewed as just a myth; but for many more, the Shroud of Turin makes it all real," says Tony who previously worked in financial services for four decades.
Tony first became interested in the Shroud of Turin in the early 1990's, not long after tests had been carried out upon it claiming it dated no further back than the 13th century.
"After much prayer and studying of the evidence, I became convinced that the Shroud of Turin was, in fact, the 'real thing' and made arrangements to have a photographic replica of the Shroud put on display Lansing residents to make up their own mind – over 2,500 visitors came to my display at the Lansing Center for a weekend viewing of the Shroud."
Since then Tony has taken his photographic display of the Shroud to the parishes and schools across the Midwest of the United States and, even, into Canada. In 2020, however, COVID-19 restrictions halted his touring and, so, Tony turned to billboards as a means of continuing to promote devotion to the Holy Face of Jesus.
"That face [the Shroud of Turin] is universally recognized as that face of Jesus Christ whether you are an atheist, a Catholics, a Protestant, a believer, a non-believer, whatever. It's also a face that often produces a comment, mostly positive but sometimes not."
With the help of the Knights of Columbus, last year Tony raised enough in Lenten alms to fund 14 billboards across the Lansing area. Tony is a Fourth Degree Member of the Bishop Albers Assembly 0496 of the Knights of Columbus and a Third-Degree Officer of the Monsignor John A. Gabriels Council 11099 in Lansing. Currently he has a billboard at the intersection of Grand River Avenue and the northbound entrance to US127. It is passed by an estimated 342,000 vehicles every week.
"The Holy Face stands as a reminder that Christ is with us," explains Tony, "For Catholics, it is a gentle call to prayer and the sacraments while, for others, it may be a powerful 'sign of contradiction' that draws them closer to Christ this Lent."
• Would you like to help Tony promote devotion to the Holy Face of Jesus? To to https://theholyfaceproject.com/ to find out more. You can also contact Tony at 517-331-5200.