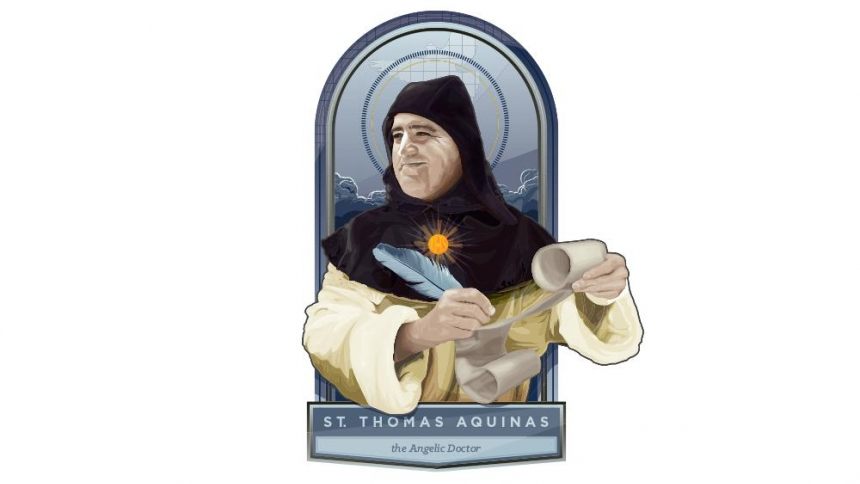 Take a look at this great depiction of Saint Thomas Aquinas (1225-1274) as imagined by the very talented illustrator, Matt Watters, of Lansing-based publisher, FAITH Catholic. Today is the Feast of Saint Thomas. But who was Thomas Aquinas and why should be celebrate him today? Father Gordon Reigle, Pastor of Saint Thomas Aquinas in East Lansing, now explains. He writes;
Saint Thomas Aquinas (1225-1274), the Angelic Doctor, is the patron saint of students and Catholic schools.  National Catholic Schools Week (Jan. 29-Feb. 4, 2023), which begins the last Sunday in January, is conveniently situated around his feast day of Jan. 28.
We are very blessed to have Saint Thomas as our East Lansing parish patron for our elementary, high school and college students.  In an age of relativism that doubts even the existence of universal truth, Saint Thomas' writings show forth the brilliance and logic of our Catholic faith.  And in this time of the National Eucharistic Revival, Saint Thomas' writings on the Eucharist are a gift to the Church.  Have you read his before and after Holy Communion prayers?  They are an excellent preparation to appreciate the gift of Jesus' True Presence in the Blessed Sacrament.  And if you've ever sung the Benediction hymns — Tantum Ergo or O Salutaris — then you know the work of Saint Thomas Aquinas.
Saint Thomas is one of the great Dominican saints. For the Dominicans, "assiduous study" is one of the four pillars of their order and religious life. Saint Thomas Aquinas studied under Saint Albert the Great and spent his life seeking to know and share the Wisdom of God.  He is best known for his Summa Theologica, a very comprehensive reflection on our faith which was meant to serve as an introduction to theological studies.  If you read his arguments in the Summa, Saint Thomas always summarizes the logic of his opponents fairly and intelligently.  And then he overcomes them with superior wisdom and intellect.  In a world that struggles to dialogue and look for the best in others or to give the benefit of the doubt, Saint Thomas is a valuable example of intellectual honesty and charity, even to his opponents.
As we celebrate National Catholic Schools Week, please pray for our Catholic schools — faculty, staff, administrators, students and families — and support Catholic education with your time and resources.  In a day where ideology and political correctness have altered the landscape of public education to the detriment of our students and families, let us look to our Catholic schools as a necessary investment in our mission to go and teach all nations (The Great Command – Matt. 28:19-20).  May we make room for anyone — Catholic or otherwise — who wants a Catholic education!
St. Thomas Aquinas, pray for us!