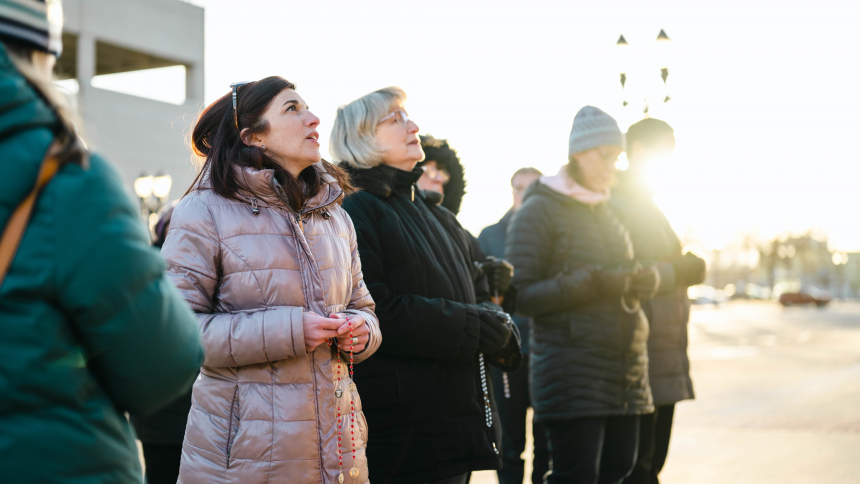 A prayerful band of lay Catholics braved subfreezing temperatures outside Sparrow Hospital in Lansing, February 24, to pray the Holy Rosary for those injured in the mass shooting at Michigan State University last week.
"I think the Rosary is powerful because it gives people hope, it gives people inspiration that there is more to life," said Jasmine Bontrager who is, herself, a student at Michigan State.
"Mary is interceding on our behalf, and she can really say some powerful prayers for us and help us to know the Lord better."
Three students were killed in the shooting, February 13, and five were critically injured. As of today, one injured student has been released from hospital while the other four are still recovering at Sparrow. Just outside the doors to the hospital, a constant refrain could be heard on Friday evening: "Hail Mary, full of grace, the Lord is with thee…"
"It feels like the least I can do," said Michael Lavagnino, who teaches engineering at Michigan State University, adding that both he and his wife, Nicole, are alumni of the college.
The impromptu praying of the Holy Rosary was organized by Dawn Hausmann, the Diocese of Lansing's Director of Consecrated Vocations. Meanwhile, Jay Jong and Julie Becka, both of Encounter Ministries, led the group in a praise and worship song after the Rosary.
By the end of the prayer a beautiful sunset had filled the sky.
"Our Lady has these young people in her mantle, and we want her to intercede for them, that they be healed," said Laurene Moore, of Lansing's Immaculate Heart of Mary Rosary Makers group. Ave Maria!