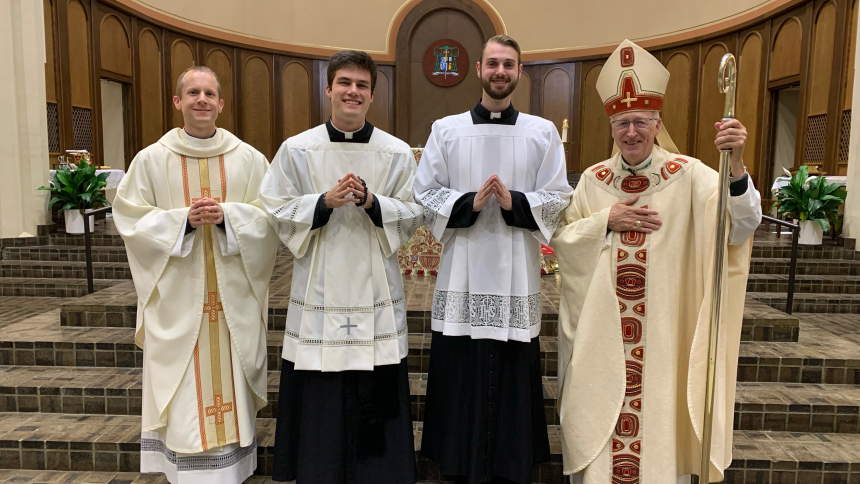 Congratulations to Diocese of Lansing seminarians Thomas Crowley and Paul Keenan who have each taken one step closer to the sacred priesthood after being admitted to Candidacy for Holy Orders by Bishop Earl Boyea at Saint Mary Cathedral in Lansing, May 22. Deo gratias. The two men are pictured above flanked by Father John Whitlock, Diocese of Lansing Vocations Director, and Bishop Earl Boyea of Lansing. 
The Rite of Admission to Candidacy for Holy Orders is celebrated when a man has reached a maturity of purpose in his formation and has demonstrated the necessary qualifications for ordination. In the presence of the bishop, each man publicly expressed his intention to complete his preparation for holy orders and also his resolve to fully invest himself to that end, so as to best serve Jesus Christ and his Holy Church.
Thomas Crowley hails from the Church of the Resurrection parish in Lansing and is a student at the Pontifical North American College in Rome. Meanwhile, Paul Keenan is a parishioner of Saint John the Baptist in Ypsilanti and a student at Sacred Heart Major Seminary in Detroit.
Both men were joined today at Saint Mary Cathedral by family and friends including many of the Diocese of Lansing's 28 seminarians, pictured below. Also pictured below are the Keenan and Crowley families. 
Please do keep Paul and Thomas – and all the Diocese of Lansing seminarians – in your prayers in the months and years to come. Saint Charles Borromeo, patron of seminarians, pray for them!