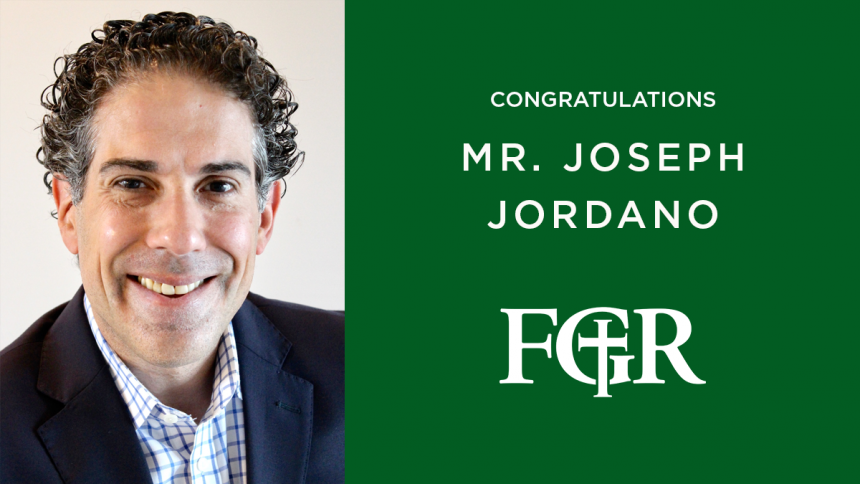 Congratulations to Joseph C. Jordano who has been announced as the new President of Father Gabriel Richard High School in Ann Arbor, effective July 1, 2021.
"I can think of no other time in American history that Catholic education was as important as it is today," said Mr. Jordano, June 22.
"At FGR, the faculty and staff are committed not only to helping students attain the highest levels of academic achievement, but to forming intentional disciples of Jesus Christ and to equipping them to become mature Catholics in service to their families, the Church, and the world."
"I could not be more excited to join the faithful, passionate, and devoted team at FGR on this incredible mission. Equally, I can't wait to get to know the students and families that make FGR such a sought-out community!"
Mr. Jordano has a B.S. in Economics from the Wharton School of the University of Pennsylvania and participated in the High Potentials Leadership Program at Harvard Business School. He is an accomplished leader with extensive experience in strategic planning, business development, operations, and recruiting. He brings a breadth of national, international, for profit, not-for-profit, and Church experience to the president position at FGR.
"Throughout the recruitment process, the goal was to allow the Holy Spirit to guide us and help us find a person who could take FGR to the next level of success. We all know how important the President position is to the success of FGR and we feel so blessed that Joe stepped forth as a candidate," said Patrick Hoban, Father Gabriel Richard Board Chairman, June 22.
"A great testament to him being the right person was that Joe was highly rated by every interview group and was unanimously supported by every Board member who interviewed him. He also received unanimous approval for recommendation to the Bishop by the Final Selection Committee."
Mr. Jordano currently resides in Plymouth, Michigan, with his wife Becky, and their three sons. The Jordano family are active parishioners at Our Lady of Good Counsel in Plymouth. Their boys attend Spiritus Sanctus Academy in Plymouth.
"Joe is a proven, successful leader with a real passion for Catholic education. He brings a wealth of experience, deep faith and a commitment to excellence to his new role. I am excited to welcome Joe and his family to our Father Gabriel Richard High School Community," said Tom Maloney, Superintendent of Schools for the Diocese of Lansing.
Congratulations Mr. Jordano! Our Lady, Seat of Wisdom, pray for him!