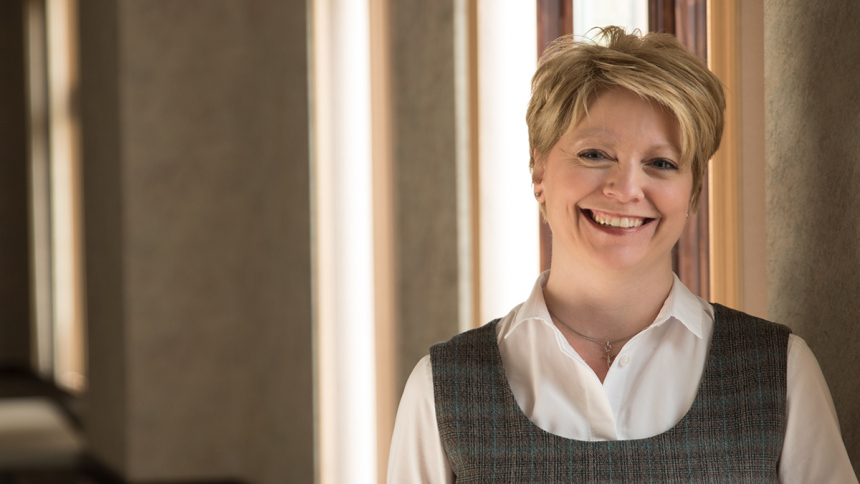 Bishop Earl Boyea has appointed a new Chief of Staff of the Diocese of Lansing. She is Lisa Kutas, pictured, who is presently the diocesan Director of Human Resources, a post she has occupied for the past decade. Lisa begins her new role in October. She'll succeed Deb Amato who is stepping down after serving as the first-ever female Chief of Staff of any US diocese over the past four years.
"After much prayer and discernment, I agreed to accept the offer from Bishop Boyea to become the new Chief of Staff of the Diocese of Lansing and, indeed, I am honored that he would ask me," said Lisa, August 24, "I trust in the Lord and his guidance through the Bishop. If this is what is next for me to serve His Church, then I will joyfully serve as Chief of Staff."
The post of Chief of Staff involves coordinating the diocese's internal operations and administrative affairs; implementing the Bishop's vision and directives; and ensuring that the members of the chancery properly fulfill the office entrusted to them including serving the clergy, staff and lay faithful of the diocese's 72 parishes, 34 schools, and 5 charitable agencies spread throughout a ten-county diocese.
Lisa Kutas is a graduate of Indiana University Bloomington and Indiana University–Purdue University Indianapolis. She is also currently pursuing a master's degree in Theology. Prior to joining the Diocese of Lansing in 2011, Lisa was Director of Human Resources at Michigan Supreme Court and Court of Appeals. She has been married to Mike since 2002. They have two daughters, Elaine and Paige. The Kutas family are parishioners of Saint Mary in Charlotte.
"The post of Chief of Staff has to be occupied by somebody of great professional competence and, more importantly, somebody whose life is obviously motivated by a great love for Jesus Christ and his Holy Church," said Bishop Boyea.
"That aptly describes Deb Amato who has given four years of unstinting service for which I am hugely grateful. It also aptly describes Lisa Kutas whom I am delighted has accepted my offer to become our new Chief of Staff. For that, Lisa has my gratitude and, of course, my prayers."
Lisa will take over from Deb Amato on October 29, 2021. The two women are already working together to ensure a smooth transition of responsibilities. Deb has served the Diocese of Lansing in various senior roles over the past 11 years including Chief of Staff since 2017. In family life, Deb has been married to Mark for over three decades. They have four children and 13 grandchildren who "keep them very busy". Deb will continue to play a pivotal role in the Diocese of Lansing's Realign Resources for Mission process which she helped to initiate back in 2019.
"I am so grateful to Bishop Boyea for his confidence in me and his trust over the past four years as Chief of Staff," said Deb.
"He has supported my leadership and entertained my sometimes 'crazy' ideas directed towards the continued growth and flourishing in both the work of the chancery and the diocesan-wide work of ministry. I have been greatly blessed for having served alongside so many faithful and faith-filled people in this vineyard."