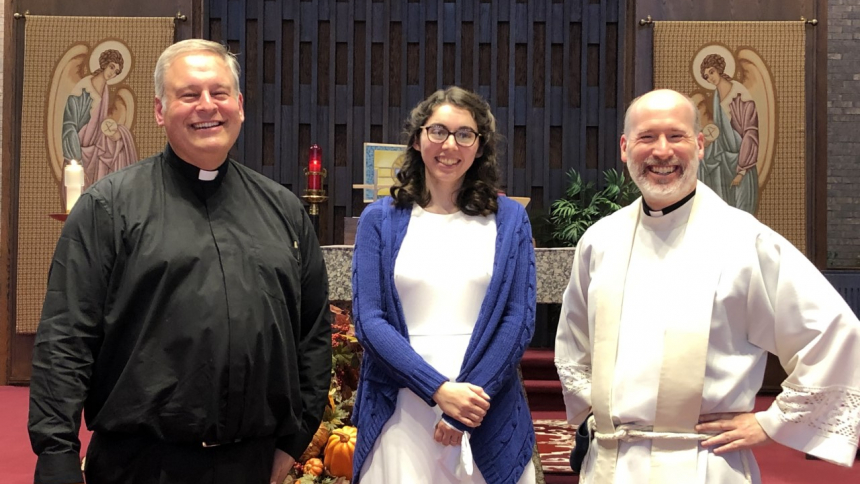 RoseMary Battle would really appreciate your prayers. The 23-year-old from the parish of St. John the Evangelist in Fenton is currently discerning a vocation to religious life. Here, in her own beautiful words, RoseMary charts her path, so far, towards the sisterhood:
"I vividly remember sitting in the back seat of the family car. It was just Mom and I (which was rare considering I was number 10 of 11 children). I was staring pensively out the window and, suddenly, I just couldn't stand it anymore. I let out a deep sigh. My mother looked at me through the rear view mirror."
"'What's the matter Rose?' she asked."
"I paused for just a moment and thought: Was this the right time? Was I ready to share?"
"'I… I just don't know what to do Mom. I want to be a teacher but I REALLY want to be a nun,' I responded, trying to hold back tears."
"To my surprise my Mother laughed, 'Sweetheart, you can be both'."
"I was 10-years-old when I made that frustrated exclamation in the car but that was not the first moment that I felt a call upon my heart to belong to the Lord. In hindsight, it isn't like I really hid the idea of wanting to be a religious. I used to ask my mother it was could attend Mass on my birthday as my gift."
"The Lord never seemed to give me a moment to myself and, despite many attempts on my end to 'quit discerning', He kept tugging on my heart. My favorite example of this was when I was in middle school and my crush asked me if I would go out with him. I stammered with nervous excitement: "No!" Poor kid … in the moment between him asking and my response the Lord made me realize that, though it was not wrong for me to say yes, He already considered me to be His.
"The Lord has continued that theme through high school, college, and now young adulthood. I went on my first 'Nun Run' with the Diocese of Lansing when I was in high school and I have visited with many communities since. I attended Michigan State University and studied Elementary Education. I found small and big ways to live out my faith while in college. I became an active member of St. John Student Center, worked as the religious education intern, ran a 'small group' Bible study on MSU campus and lived at the Diocese of Lansing Discernment house, Emmaus House, for two years."
"While in formation at Emmaus I traveled from one side of the country to the other in search of where the Lord was calling me, starting with the 'Nun Run' to New York and working my way to visit the Carmelite Sisters of the Most Sacred Heart in Los Angeles."
"I visited several times with the Carmelites Sisters, applied, and was asked to take an additional year of discernment. In that year the Lord worked in both mine and the community's heart to reveal that was not the 'home' He had in store for me. Though that was a painful experience the Lord has worked so much good from it."
"I am currently a teacher at St. Michael's in Grand Ledge. In the past few months the Lord asked me to take another step closer to Him. In response, I recently took temporary private vows of poverty, chastity and obedience at St Thomas Aquinas in East Lansing."
"I am so grateful for all that the Lord has done and continues to do in my life, for the wonderful people He has worked through and the joy which He gives me each day as I strive to answer his call. I do not know yet what the next step he is asking me to take is, but I am sure it is hard, complicated, and wonderful."
"Please continue to pray for me as I discern his call in my life and I promise to pray for you as well!"