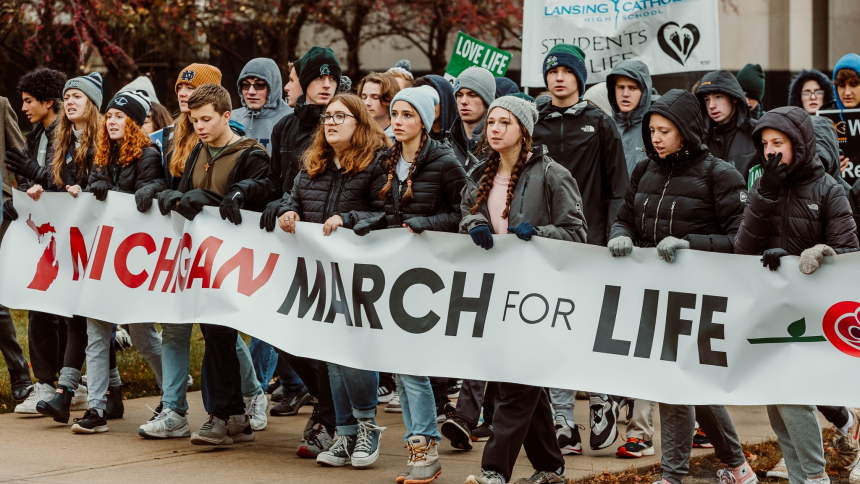 An estimated 6000 people took to the streets around the State Capitol for the first ever Michigan March for Life, November 8.
"There are those who would like to 'fight like hell'," said Bishop Earl Boyea in his homily during Holy Mass at a packed Saint Mary Cathedral preceding the March for Life.
"In fact, there is a real hellishness whenever any innocent life is taken. There is a real hellishness when our state and our community becomes a destination for such evil purposes. There is a real hellishness when joy and celebration mark the victory of darkness over light. There is a real hellishness when the vast majority of our population sees no problem in all of this. What then are we to do? My sisters and brothers, we must fight like heaven!"
The principal celebrant of the Mass was Archbishop Allen Vigneron of Detroit. Bishop Boyea was among dozens of clerics concelebrating including Bishop David Walkowiak of Grand Rapids; Bishop Jeffrey Walsh of Gaylord; Bishop Edward Lohse of Kalamazoo; and Auxiliary Bishops Gerard Battersby and Robert Fisher of Detroit.
Holy Mass was followed by a rally in the rain at the State Capitol emceed by the former Channel 4 (WDIV-TV) news anchor and meteorologist, Chuck Gaidica. Among the speakers were the President of Right to Life of Michigan, Barb Listing, and the national President of the March for Life, Jeanne Mancini. The keynote address was given by Genecia Davis, the founder of Black Girls for Life, who shared her personal story of abortion and subsequent path to peace.
The date of the March for Life had been deliberately chose to coincide with the first anniversary of last year's state-wide vote on Proposal 3, a ballot initiative that inserted a so-called "right to reproductive freedom" into the Michigan state constitution by 57% to 43%.
"Last year we tried very hard to stop Proposal 3 three from passing but we lost," said Richard Budd, Director of Marriage and Family for the Diocese of Lansing.
There's a lot of people saying 'why don't you guys just take a loss and move on' but we can't move on. This is innocent people that are dying every day – how could we ever stop fighting?"
In a twist of black irony, this Tuesday saw voters in Ohio approve an almost identical pro-abortion amendment to their state constitution and by the exact same margin of victory.
"Hey, we had a hard night last night around the country," said Jeanne Mancini, "But you can see that the pro-life Michigan people are here in force, most of them young, and with so much enthusiasm and joy – and that's the only way we'll win hearts and minds."
The rally was then followed at noon by a colorful, noisy and good natured march which included representation from many parishes and schools from across the Diocese of Lansing.
"Standing for life is so important," said Moria Cullen, a parishioner of Saint Thomas Apostle in Ann Arbor and a member of the Diocese of Lansing's Catholic Social Teaching Commission.
"On a day like today, you just need to show up, we need to show up, we need to walk in solidarity with other people who are here to be a witnesses to hope and light in a world that doesn't always understand it."
"Life is important, you know, and abortion is not good for anyone. It's killing babies. That's not what we should do," said Stephen Fair who was among a sizable contingent of students from Lansing Catholic High School.
"I firmly believe that every life should have the opportunity to be lived and is gifted by God and that God has a plan for all of us, and I'm here to support that," added Madi O'Neal of Lumen Christi Catholic School in Jackson.
* Photographs by Kathryn Mietelka