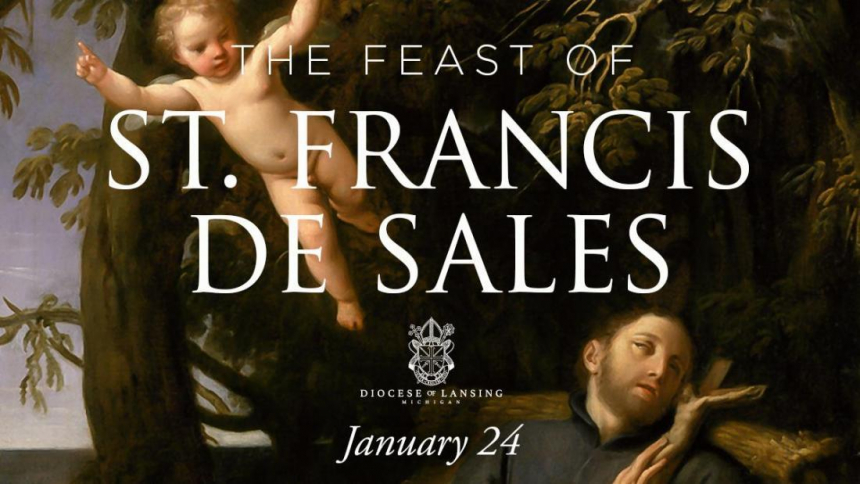 Here's a very personal story of how God's loving providence for each of us always surpasses our grappling for him during times of trial and sadness.
Stephanie Van Koevering is the new Editor of FAITH Magazine, the official publication of the Diocese of Lansing. Stephanie became a Catholic over a decade ago. Recent personal tragedies, however, began to take the wind of Stephanie's spiritual sails. "Fortunately for me," writes Stephanie, "God had other plans".
Read below as Stephanie explains how she gained a new appreciation for the maxim of the patron saint of journalists, Saint Francis de Sales (1567 – 1622): "When God sends inspirations into a person's heart, one of the first that is given is obedience." Stephanie writes:
On this feast day of St. Francis de Sales, I am particularly grateful for the double gifts of inspiration and obedience. Together, they have led me to pursue new callings in recent years — callings that show how each of us can use our gifts in service of the Lord while building our faith.
For me, these gifts came at a price. In March 2021, I lost my mom. Her passing was sudden — a heart attack — and came just 14 months after the death of my dad. I felt lost, angry, and burned out after two years of pandemic and grief. With heavy hearts, my sister and I sold our childhood home and tried to find our own paths to what must become a new normal.
During this time, I confess I was struggling to find God. Like many of us, the pandemic lockdowns had eaten their way into my Mass attendance. If I'm honest, I was more than a little frustrated with the hand God had dealt me. In the words of a popular 90s TV show, I decided the good Lord and I were sort of "on a break."
Fortunately for me, God had other plans. He reached back for me in a couple of ways that mattered very deeply — just as he works to connect with all of us.
Mom had been an amazing teacher. Journalism and literature were her subjects, and she'd taught me well. I'd majored in English literature myself, and for the past 30 years I've worked as a writer and consultant doing PR in downtown Lansing
God placed his first call to me using Lansing Catholic High School. They needed help proofreading a yearbook; would I mind lending a hand? Of course not. The experience helped me heal, and three months later I walked into my very first class as a journalism teacher, following in my mom's well-worn footsteps to produce the school's yearbook for 2021-22.
And because I can never do anything halfway, I began working to get my teacher certification. Before I knew it, I began to teach not only journalism, but two sections of AP literature and composition. God was finding me again through the written word. Great poems, compelling prose. School news and photos. Time on campus, rebuilding my relationship with him through Mass and in prayer. And still — thanks to the best employer of all time — doing my PR work to help clients achieve their goals.
Then came the biggest call of all. The Diocese of Lansing wanted a new editor for its edition of FAITH magazine, and thought I might be able to help. I jumped at the chance — both inspired and obedient.
Since beginning my work with FAITH, I've been able to rebuild my own spiritual backbone. I've encountered real-life stories of healing that challenge my old ideas about God's power and worked hard to help share those stories with others. I've learned about the amazing gifts of local writers and thinkers and helped shine a light on their many valuable contributions to our world. I am amazed every day at the work God is doing in our diocese, and grateful that someone allows me to play a small role in it.
After 30 years of work on all sorts of really amazing projects, the four issues of FAITH I've helped produce are what make me proudest of all. Why? Because God gave me the chance to connect with the right team at the right time. I'm learning and growing, both professionally and spiritually. He's shown me he'll never give up, even when I think I might.
I miss my parents. I hope when we meet again, they know I tried my hardest to make them proud.
But their loss has taught me something. It's shown that God not only remembers each of us during our times of grief, but he also offers each of us the inspiration and obedience to serve as his instruments for good. He truly redeems each of our hardships, turning them into sacrifices for good.
So, if you're feeling like you're "on a break" with God, be ready. He's undoubtedly trying to reconnect with you through one means or another. Let him. It's a priceless opportunity he brings, and we must all keep on the lookout when they are given to us.
Saint Frances de Sales, patron of journalists, pray for us!