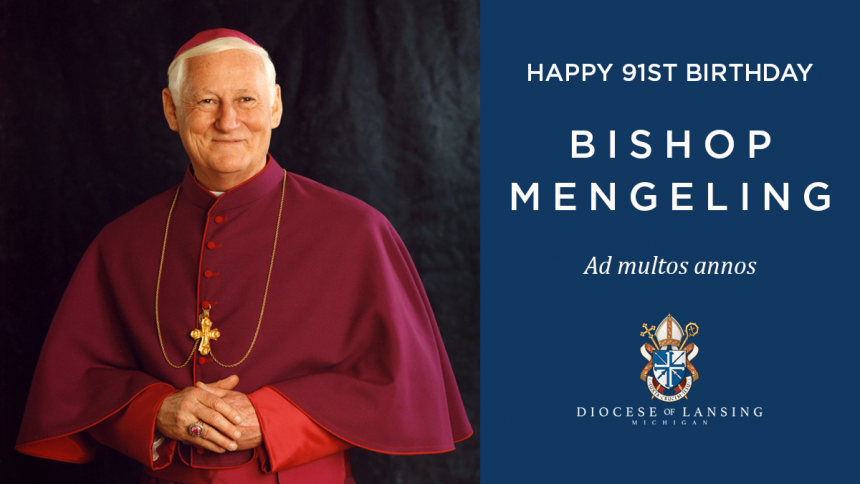 Today is the 91st birthday of the Most Reverend Carl Mengeling, Bishop Emeritus of the Diocese of Lansing. Happy birthday Bishop Mengeling! Ad multos annos!
Bishop Carl F. Mengeling was born October 22, 1930, in Hammond, Indiana, the son of Carl H. and Augusta Huke Mengeling, who were both German immigrants. He was the second of four children. The family were Lutheran but, at the age of nine, young Carl was received into the Catholic Church.
He was ordained to the sacred priesthood for the Diocese of Gary, Indiana, by Bishop Andrew G. Grutka on May 25, 1957, at the Cathedral of the Holy Angels in Gary. On November 7, 1995, Monsignor Mengeling was appointed to succeed the Most Reverend Kenneth J. Povish as Bishop of Lansing. Thus, he became the first priest of the Diocese of Gary to be elevated to the episcopacy. He was ordained on January 25, 1996, at Saint Mary Cathedral, Lansing, by Cardinal Adam Maida, Archbishop of Detroit. Bishop Mengeling chose the words of Saint John the Baptist as his episcopal motto "He must increase!" (John 3:30).
Bishop Mengeling retired on February 27, 2008, aged 77, after 12 years of service. Since then he has continued to play an active part in the life of the Diocese of Lansing.