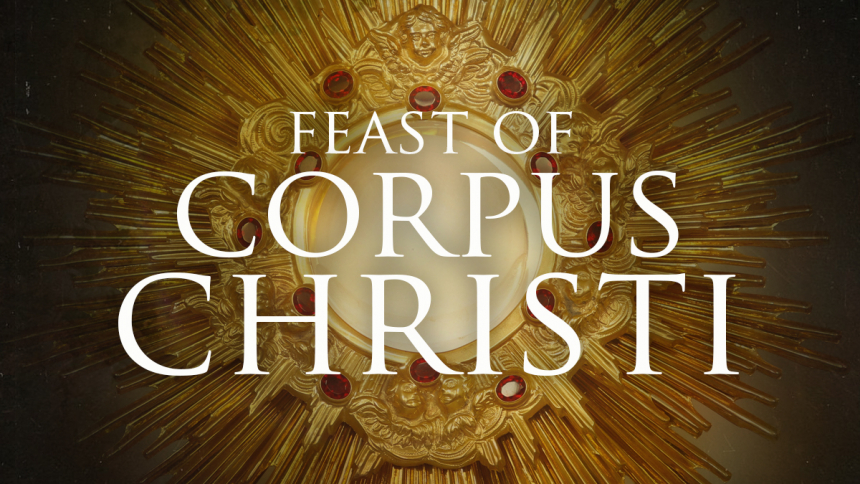 Today is the Solemnity of Corpus Christi or, in English, the Solemnity of the Most Holy Body and Blood of Christ. Happy feast day! Today is the solemn commemoration of the institution of the Holy Eucharist at the Last Supper. It is, moreover, the Church's official act of homage and gratitude to Christ, who by instituting the Holy Eucharist gave to the Church her greatest treasure. Here's a beautiful personal reflection upon today's feast by Jeremy Priest, Director of the Office of Worship for the Diocese of Lansing. Jeremy writes:
"Amazement! How on earth can it be that Jesus Christ is not only with us through the outpouring of the Holy Spirit, but that through that same Spirit, his Body, Blood, Soul, and Divinity is with us in the Most Holy Sacrament of the Altar?!"
"The Solemnity of the Most Holy Body and Blood of Christ (Corpus Christi) is celebrated each year because of this awestruck wonder — God continues to dwell among us and gives Himself to us in His Body and Blood! Not that we don't know this wonderous gift every Sunday — for some of us, even daily! —  but the feast of Corpus Christi is like a yearly birthday by which we remember and recall how amazing it is that God dwells among us in this way!"
"Corpus Christi is the acknowledgement that the Lord Jesus, God become man, is our companion through the days of the year in the Blessed Sacrament. The word companion comes from a combination of the Latin words, cum, meaning with, and panis, meaning bread. So, the Blessed Sacrament is literally, "bread with us." With St. Augustine, Pope Benedict XVI helps us to deepen our amazement."
"St Augustine helps us to understand the dynamic of Eucharistic communion when he mentions a sort of vision that he had, in which Jesus said to him: "I am the food of strong men; grow and you shall feed on me; nor shall you change me, like the food of your flesh into yourself, but you shall be changed into my likeness" (Confessions, vii, 10, 18)."
Meanwhile, Pope Benedict XVI writes: "Therefore, l whereas food for the body is assimilated by our organism and contributes to nourishing it, in the case of the Eucharist it is a different Bread: it is not we who assimilate it but it assimilates us in itself, so that we become conformed to Jesus Christ, a member of his Body, one with him. This passage is crucial. In fact, precisely because it is Christ who, in Eucharistic communion changes us into him, our individuality, in this encounter, is opened, liberated from its egocentrism and inserted into the Person of Jesus who in his turn is immersed in Trinitarian communion." [1]
[1] Benedict XVI, Homilies of His Holiness Benedict XVI (English) (Vatican City: Libreria Editrice Vaticana, 2013): Corpus Christi – 23 June 2011.