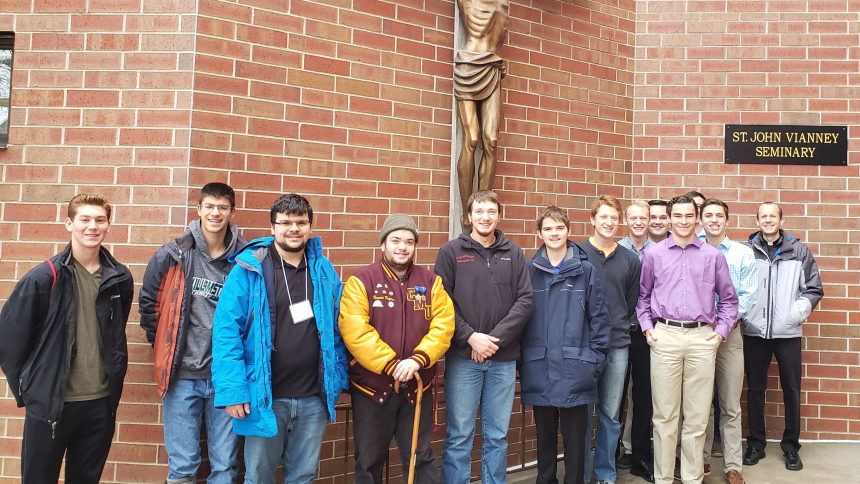 Meet just some of the young men from the Diocese of Lansing who are presently discerning a vocation to the holy priesthood upon their recent "come and see" visit to St. John Vianney College Seminary in Minnesota, 14-16 November.
"Father Joe Campbell, Parochial Vicar of St. Patrick's in Brighton, and myself took six young men to visit St. John Vianney College Seminary where they were also able to meet our 10 diocesan college seminarians presently studying there," said Father John Whitlock, Director of Seminarians for the Diocese of Lansing, 20 November.
"It seemed to be a very worthwhile, very enjoyable experience for all those who attended with one of the young men noting that the trip was 'very informative for my discernment process – I had an amazing time and am excited to see where God will take me next!'."
The weekend visit permitted the young men to find out more about seminary life and priestly life with ample time for prayer and opportunities to socialize with each other.
Established in 1968, St. John Vianney College Seminary in St. Paul, Minnesota, is one of the largest college seminaries in the United States, with approximately 100 undergraduate men in formation annually. The seminary aims to form those young men in the human, intellectual, spiritual and pastoral dimensions of formation and help them to discern a potential call from God to the priesthood.
The seminary's formation program is founded upon the norms of Pastores Dabo Vobis, the Apostolic Exhortation of Pope St. John Paul II; The Program of Priestly Formation from the United States Conference of Catholic Bishops; and, most recently, the Ratio Fundementalis from the Vatican's Congregation for the Clergy. More than 500 of their alumni are serving as ordained priests today.
For more information on St. John Vianney College Seminary go to https://semssp.org/vianney/
For more information on becoming a priest for the Diocese of Lansing, https://www.dioceseoflansing.org/vocations/am-i-called