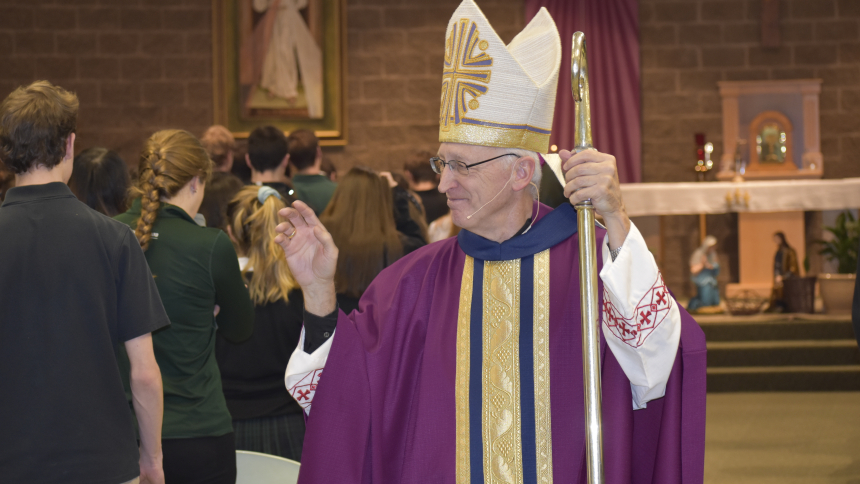 The students and staff of Father Gabriel Richard High School in Ann Arbor prayerfully prepared for Christmas this morning with Holy Mass preceded by a Q&A session with Bishop Earl Boyea of Lansing.
"A visit from the bishop including, as it did, Holy Mass is always a wonderful, prayerful way to head into the Christmas break," said Julie Frank, Communications Manager, Father Gabriel Richard High School, December 20.
"Earlier during his visit, His Excellency also met with seniors to encourage them to consider and, most importantly, to pray about their future vocations."
"He also answered their questions with students' queries ranging from the personal – 'What is your favorite book of the Bible?' – to the contemplative, such as those concerning free will."
Bishop Boyea was then the main celebrant at Holy Mass with Father Richard Lobert, the school's chaplain, and Father Ed Fride, Pastor of Christ the King in Ann Arbor, both concelebrating.
With its foundations dating back to 1868, Father Gabriel Richard High School in Ann Arbor describes itself "a Catholic school community," which "exists to build up the Body of Christ through the intellectual and spiritual formation of its students."
In 2008, Father Gabriel Richard High School was put on the Top 50 List of best Catholic high schools in the nation. As of October 2015, it has been placed on this list for seven consecutive years. To know more go to: https://fgrhs.org/