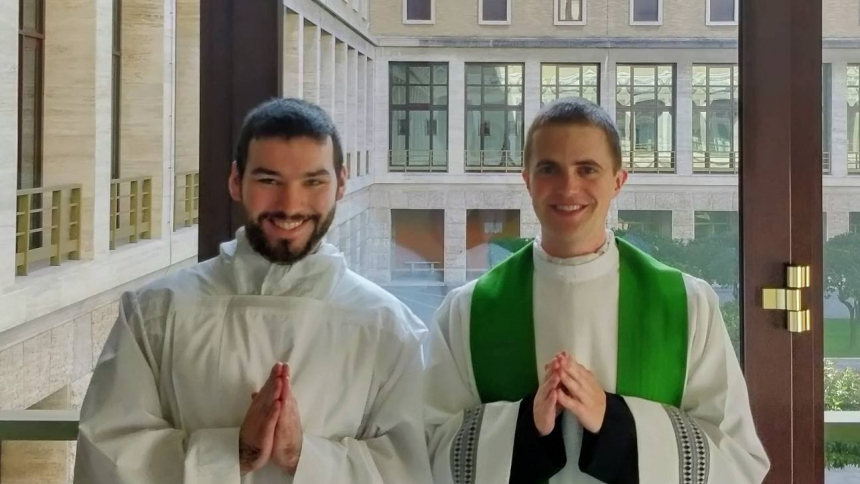 Well done to Diocese of Lansing seminarian Peter Ludwig (pictured left) who was admitted to the Ministry of Acolyte in Rome on Sunday, 23 February.
"Becoming an Acolyte is a significant step upon the path to priesthood and, so, we both congratulate Peter and, more importantly, continue to assure him of our prayers in the months and years to come," said Father John Whitlock, Director of Seminarians, 24 February.
The ceremony took place within the Chapel of the Immaculate Conception in Rome's Pontifical North American College. Among those concelebrating Holy Mass was Father David Fons of the Diocese of the Lansing (pictured right) who is currently pursuing further studies in Rome.
The job of an Acolyte is primarily associated with assisting the priest and deacon during Holy Mass, however they will also bring the Blessed Sacrament to the sick and housebound as well as distributing communion during Mass. Acolytes may also, under the guidance of the priest, present instruction to the faithful. They may also expose the Blessed Sacrament.
Peter Ludwig hails from Dimondale, just outside Lansing, and is the oldest of ten children. His family are parishioners at St. Peter in Eaton Rapids. He previously studied at St. John Vianney College Seminary in St. Paul, Minnesota, before going on to study at the Pontifical North American College in Rome. God willing, Peter will be ordained to the holy priesthood in 2022.
Do you feel God is calling you to the Holy Priesthood? Please feel free to contact Father John Whitlock, Director of Seminarians, at jwhitlock@dioceseoflansing.org or on 517-342-2507.