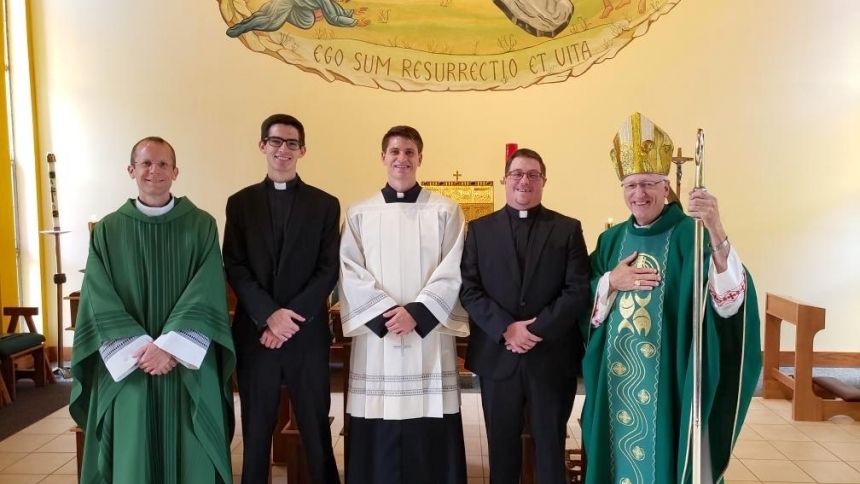 Three young men from the Diocese of Lansing took a big step closer to the holy priesthood when the were admitted to Candidacy for Holy Orders by Bishop Earl Boyea, Sunday 18 August.
"My brothers, you now wish to join the ranks of those on pilgrimage toward the priesthood, to be runners in the arena," said Bishop Boyea in his homily during Holy Mass at Saint Francis Retreat Center, DeWitt.
"If at times you begin to feel a bit lost and start to wander, know that there is no better way to get back on track than to look at the goal, to gaze on Jesus, to fix him in your sights. Let him be the prize for all of us and let us journey on toward him."
The Rite of Admission to Candidacy for Holy Orders is celebrated when a seminarian has reached a maturity of purpose in his formation and has demonstrated the necessary qualifications for ordination.
The three seminarians receiving candidacy on Sunday were: Corey Bilodeau from the Immaculate Heart of Mary Parish in Lansing; Shea Kettner from Saints Charles & Helena Parish in Clio, Genesee County; and Kevin Hufnagel from Christ the King Parish in Ann Arbor
In the presence of the bishop, each man publicly expressed his intention to complete his preparation for holy orders and also his resolve to fully invest himself to that end, so as to best serve Jesus Christ and his Holy Church.
The day in DeWitt concluded with a Vocations Dinner which was attended by 27 young men who are discerning a call to the holy priesthood. They were accompanied by their pastors and deacons.
Please keep Corey, Shea and Kevin in your prayers as they progress, God willing, towards the holy priesthood. Saint Charles Borromeo, patron of seminarians, pray for them!