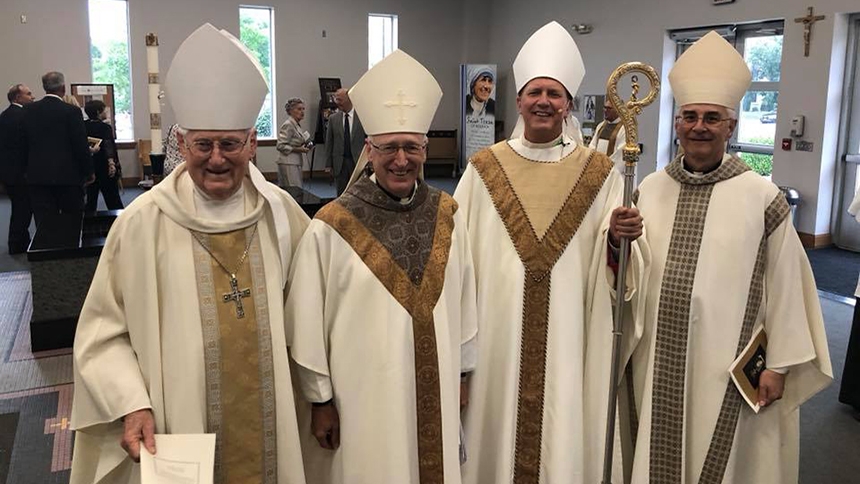 History! Four bishops from the Diocese of Lansing: Bishop Carl F. Mengeling, Bishop Emeritus of Lansing; Bishop Earl Boyea, Diocese of Lansing; newly ordained Bishop Jerry Vincke, Salina Diocese; Bishop Steven J. Raica, Diocese of Gaylord.
On August 22, Monsignor Gerald "Jerry" Vincke - a priest of the Diocese of Lansing - was ordained and installed as the twelth Bishop of the Diocese of Salina, in Kansas.
FAITH Magazine Interview with Bishop Jerry Vincke
---
10-minute highlight video of the ordination Mass of Diocese of Lansing priest Gerald "Jerry" Vincke as 12th bishop of Salina Diocese  
---
Bishop Vincke was ordained to the priesthood on June 12, 1999, at St. Mary Cathedral in Lansing, Mich. by Bishop Carl F. Mengeling. He was parochial vicar of St. Thomas the Apostle Parish in Ann Arbor, Mich., from 1999 to 2001. He became the director at Bethany House, a retreat house for youth, from 2001 to 2004. He attended the Creighton University for Spirituality courses in the summer of 2001. He also participated in the Institute for Priestly Formation Program at Creighton University for several summers. Additionally, he became the Director of Seminarians and Vocation Director in 2003, becoming full-time in those positions and relinquishing duties at Bethany House in 2004. 
---
Remarks from Bishop Vincke, after his ordination for Salina Diocese
---
He was the Spiritual Director at the Pontifical North American College in Rome from 2010 to 2015. While in Rome, he completed the requirements for the S.T.L. (License in Sacred Theology), with a focus on Spiritual Theology, in 2015. His Tesina is entitled: "Following the Path of St. John Vianney for the New Evangelization with Evangelii Guadium as a Guide." In 2012, he was named a Monsignor by Pope Benedict XVI. In 2015, upon his return to the Diocese of Lansing, he was assigned as the pastor of Holy Family Parish in Grand Blanc, Mich. (a suburb of Flint, Mich.). Additionally, he currently serves on the Presbyteral Council, the Priest Assignment Committee, and the College of Consultors of the Diocese of Lansing, Mich.
---
Homily from Bishop Earl Boyea for episcopal ordination of Bishop Gerald "Jerry" Vincke for Salina Diocese
---
Bishop Vincke was born on July 9, 1964, in Saginaw, Mich., the ninth of 10 children of Henry and Fidelis Vincke. He attended New Lothrop High School and Ferris State University in Big Rapids, Mich., where he obtained a degree in public relations and marketing. He completed his Philosophy studies at St. Thomas More College in Crestview, Ky., and his Theology studies at Athenaeum Seminary in Cincinnati, Ohio and Sacred Heart Seminary in Detroit, Mich.
---