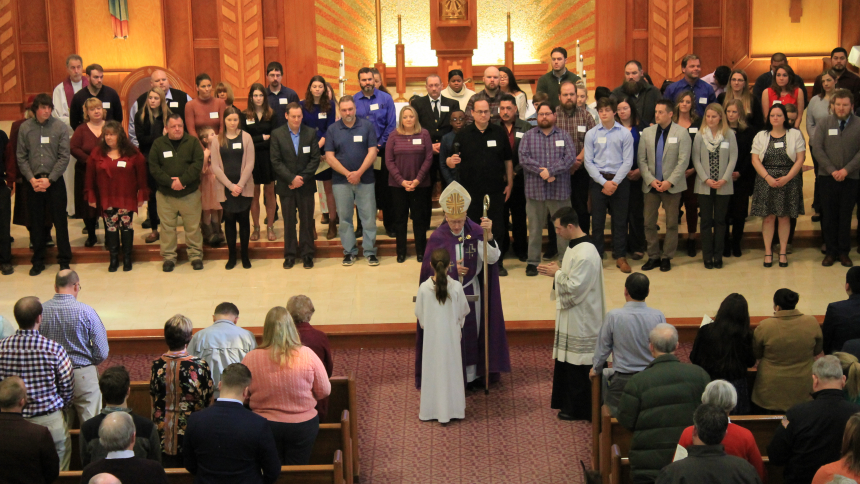 Meet just some of the 423 men, women and children from across the Diocese of Lansing who are due to become Catholic at Easter this year. Welcome home! They gathered on Sunday 1 March for the Rite of Election at St. Martha in Okemos. So how does it feel to be so close to becoming Catholic?  
"It's been a wonderful journey and I'm really looking forward to the rest of it," said Elina George who will be received into the Church at Immaculate Heart of Mary parish in Lansing, "I love the Catholic traditions and I love the culture."  
Jennifer Novakoski, who will be received into the Church at St. Mary in Westphalia, said, "My life feels a little bit lighter – it felt heavier before, but now it feels physically lighter."
Meanwhile, Fernando Hernandez, who will be received at St. Therese parish in Lansing, said, "My relationship with God has been enhanced a lot more. I know that He resides within me."
Yesterday's Rite of Election ceremony gathered together the two categories of convert: The non-baptized, known as "catechumens", and those who are already baptized but are not yet in full-communion with the Catholic Church, known as called "candidates".
Across the Diocese of Lansing there are 190 catechumens this year and 233 candidates. Bishop Earl Boyea of Lansing encouraged both the catechumens and candidates to use the penitential season of Lent to prepare for their reception into the Church.
Please do keep each of the candidates and catechumens in your prayers during this season of Lent. Our Lady, Mother of the Church, pray for them!