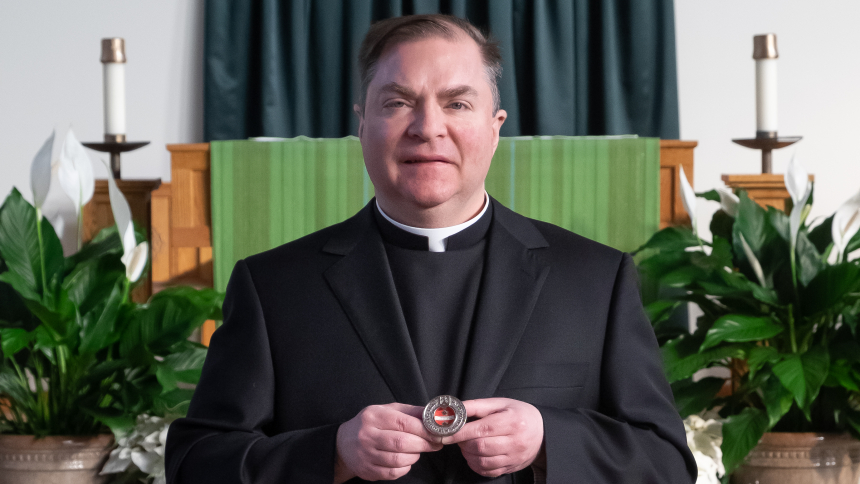 Relics of the parents of Saint Thérèse of Lisieux have found a new home in a Lansing church named in honor of the popular 19th century French saint.  
"Saints Louis and Zelie Martin, Saint Thérèse's parents, are exemplary models of Christian marriage, but they are also outstanding models of Christian parenthood – mothers and fathers can learn so much by studying their family life," said Father John Fain, Pastor of Saint Thérèse of Lisieux Parish in north Lansing, February 12.
24-year-old watchmaker Louis Martin met 26-year-old lace maker Zelie Guerin in her hometown of Alençon in Normandy in April 1858 and were married only three months later on 12 July. Within the next fifteen years, Louis and Zelie had nine children, although only five daughters would survive infancy. "We lived only for them," Zelie once wrote, "they were all our happiness."
Zelie died in 1877. Louis died 17 years later. Their daughter, Thérèse, was canonized by Pope Pius XI in 1925. Louis and Zelie were canonized by Pope Francis in 2015 and thus became the first spouses in the Church's history to be canonized as a couple.
The two relics of the saintly spouses, which were previously in the possession of the Carmelite Order in Rome, were requested by Father Fain last year. They arrived in the United States late last month. They will now be housed in a special shrine along with a relic of their daughter, Saint Thérèse, which the parish already possesses.
"The parishioners of Saint Thérèse parish and Catholics throughout our diocese have a great love for Saint Thérèse of Lisieux," said Father Fain.
"Her 'Little Way' is a spiritual path that everyone can follow. So, it's wonderful that people will now be able to come to Saint Thérèse in Lansing to venerate the relics of her parents and to be blessed with them too."
Father Fain also recognized the importance that the example of Saints Louis and Zelie had in teaching their daughter, Thérèse, the path to heroic sanctity.  
"Saint Thérèse faced challenges throughout every period of her life but the faithfulness of Saint Louis and Saint Zelie shaped the lives of both Saint Thérèse and her sisters, and it enabled them to face these challenges with love and fidelity," said Father Fain.   
The parish's two relics are deemed to be "first-class", meaning that they are both taken from parts of the saints' bodies. The veneration of relics is a common pious practice across the Catholic Church and is rooted in the Church's belief in the resurrection of the body at the consummation of time.
To find out more about the Parish of Saint Thérèse of Lisieux in Lansing at: www.sttherese.org/.