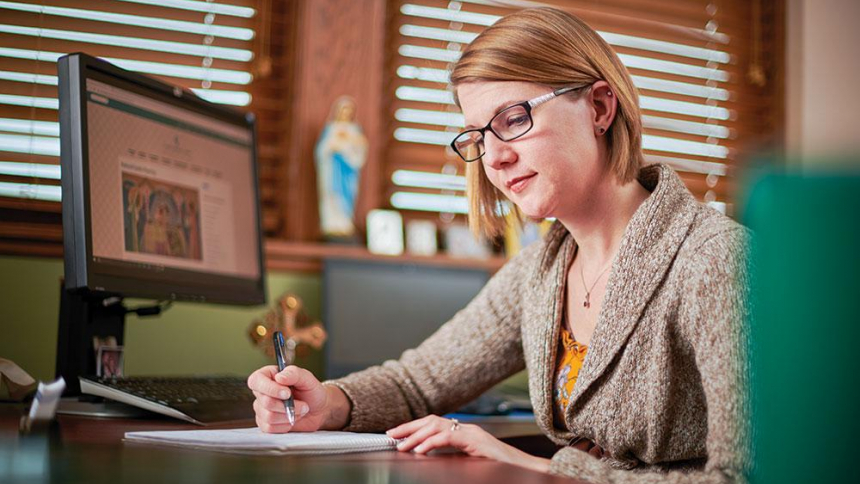 Meet Jenny Ingles, the Director for Natural Family Planning within the Diocese of Lansing. Jenny is a former atheist whose personal journey in search of the truth of human sexuality led her to Natural Family Planning and then into the Catholic Church.
"This is all about working with God's natural plan for the female body to plan pregnancy. Contraceptives take God out of it," says Jenny.
"This ministry has helped me see how delicately and lovingly Christ works in people's lives and the resulting healing. It is very humbling to be part of the intimacy couples share and to watch God working through them."
This week sees Catholic parishes across the United States celebrating Natural Family Planning awareness week (July 19 – 25, 2020). Natural Family Planning or NFP is a term that describes various methods of achieving or postponing pregnancy which, when used with the correct intention, are fully in accord with the moral teachings of the Catholic Church.
"I wish every Catholic fully understood what it means to be the image and likeness of God in your marital relationship. That is the real meaning of sexuality. If everyone understood that, all other things would fall into place," adds Jenny.
The Catholic Church proposes that the sexual union of husband and wife within marriage is meant to express the full meaning of a couple's love: Its power to bind them together, the "unitive" aspect of marriage; and its openness to new life, the "procreative" aspect.
These two aspects – unitive and procreative – are seen as intrinsic and inseparable from each other. This is why the Church has always maintained that authentic marital love is undermined by the use of artificial contraception. This has been the constant teaching of the Church in all ages. In more recent times it was most notably reaffirmed by Pope Saint Paul VI in his 1968 Encyclical Humanae Vitae.
So, does the Catholic Church suggest that couples should leave their family size entirely to chance? No. She teaches that a couple may generously decide to have a larger family or may, for just reasons, choose not to have more children for the time being or even for an indefinite period. Hence the approval and promotion of natural family planning.
That's why the Diocese of Lansing helps to fund both Natural Family Planning teachers and registered nurses to help couples use NFP. NFP instruction is also part of marriage preparation classes. The Diocese of Lansing is one of the few dioceses which provide this service free of charge.
Jenny's dream is for her office to have sufficient financial resources and trained nurses to allow every parish to have an active and thriving pro-life and pro-NFP community, and that these communities in turn offer education and intercessory prayers to promote the sanctity of life.
"A lot of brokenness comes out in our sexuality, in our spousal relationships," says Jenny.
"When couples encounter God's truth, they find joy, hope and love and when they start to heal themselves, they can work on their relationship with their spouse and with God. They become disciples."
• National NFP Awareness Week is organized by the United States Conference of Catholic Bishops and runs from July 19 to July 25, 2020, under the title of "Live the truth and beauty of God's plan for married love!" For more information go to: http://www.usccb.org/…/natural-fam…/awareness-week/index.cfm
• To know more about Jenny's work and how the Diocese of Lansing can help you to learn, live and love Natural Family Planning go to: https://dioceseoflansing.org/vocati…/natural-family-planning