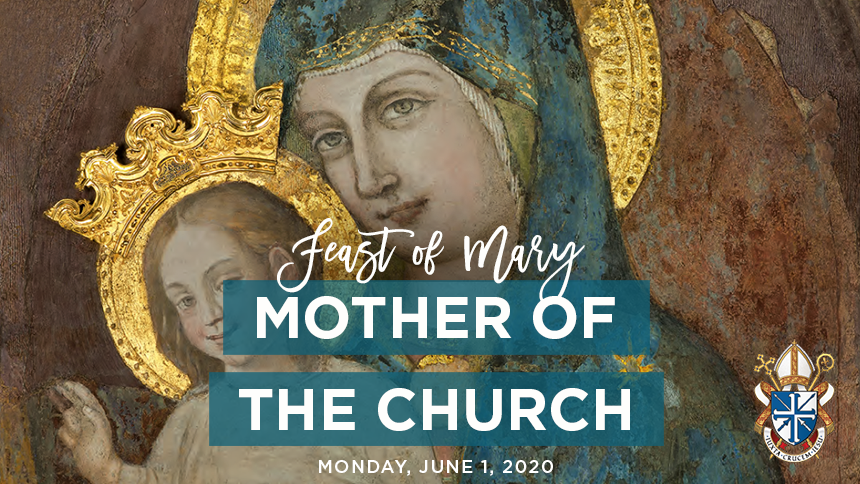 Today is the Feast Day of the Blessed Virgin Mary, Mother of the Church, a feast established in 2018 by Pope Francis to be celebrated every year upon the Monday following Pentecost. Happy Feast Day!
"In this way, the Church specifically recalls Mary's reception of the Holy Spirit with the Apostles at Pentecost, as well as her desire to protect all who come to her Son in His Holy Church," writes Father David Fons, June 1, who has just concluded graduate studies in Canon Law in Rome and will soon assume the post of Administrator of St Mary in Williamston.
"The many mysteries of Jesus' life that Mary pondered were brought to full understanding in her heart at Pentecost. As the Church was fully established in the outpouring of the Holy Spirit, strengthening the Lord's followers to believe in and to proclaim the Gospel, the Blessed Mother was there as the foremost example of what it means to fully say yes to Jesus."
Although today's feast day is new, devotion to the Blessed Virgin Mary, under the title of Mother of the Church, is very ancient. Upon creating the feast in 2018, Pope Francis said he wished to "encourage the growth of the maternal sense of the Church in the pastors, religious and faithful, as well as a growth of genuine Marian piety".
"Our new feast day is an invitation for each of us to receive more from Mary's example of holiness and from the grace of her Son that she offers us," writes Father Fons, "Let us not be afraid to ask her prayers for ourselves and for the whole Church: O Mary, Mother of Christ, and Mother of the Church, pray for us that we might be made worthy of the promises of your Son!"
May you and your loved ones have a very happy and holy feast day! Mary, Mother of the Church, pray for us!
Meanwhile, Father Fons's beautiful reflection upon today's feast day is reproduced in full below:
"One of my favorite places to pray during my time studying in Rome was the Basilica of St. Mary Major. Above the altar in the large and very beautiful side chapel is the ancient image of Mary and Child called by the Salus Populi Romani ('Health, or Salvation, of the Roman People'). Here, for almost 1500 years, countless Romans and pilgrims have sought Our Lady's favor for the wellbeing of the city of Rome and of the whole Church. Most recently in March, Pope Francis had the icon brought to the steps of St. Peter's Basilica for veneration during his extraordinary Urbi et Orbi blessing ('To the City and the World') given for those suffering from the coronavirus outbreak. In front of the papal basilica for the universal Church, the Pope offered us this particular image of Mary, so dear to the Roman people, as a protector for the whole Church in the midst of the great suffering of this pandemic, that through Mary's intercession true health and salvation might be given to us."
"Monday, following the great feast of Pentecost, we celebrate the newly elevated memorial of the Blessed Virgin Mary, Mother of the Church. In this way, the Church specifically recalls Mary's reception of the Holy Spirit with the Apostles at Pentecost, as well as her desire to protect all who come to her Son in His Holy Church. The many mysteries of Jesus' life that Mary pondered were brought to full understanding in her heart at Pentecost. As the Church was fully established in the outpouring of the Holy Spirit, strengthening the Lord's followers to believe in and to proclaim the Gospel, the Blessed Mother was there as the foremost example of what it means to fully say yes to Jesus. Our new feast day is an invitation for each of us to receive more from Mary's example of holiness and from the grace of her Son that she offers us. Let us not be afraid to ask her prayers for ourselves and for the whole Church: O Mary, Mother of Christ, and Mother of the Church, pray for us that we might be made worthy of the promises of your Son!"