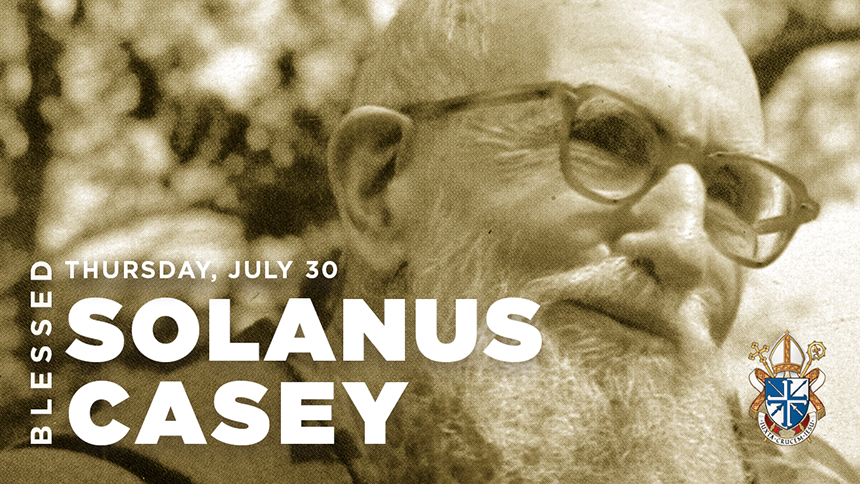 Today is the Feast of Blessed Solanus Casey (1870 – 1957). Happy feast day! Based for much of his life at Saint Bonaventure Monastery in Detroit, Father Solanus Casey was a Capuchin priest who was known during his lifetime as a wonderworker, for his great faith, and for his abilities as a spiritual counselor, but especially for his great attention to the sick. He was beatified at a ceremony held at Ford Field in Detroit in 2017. The Diocese of Lansing's Director of Religious Education, Tim Carpenter, now reflects on the life and legacy of Blessed Solanus:
"Blessed Solanus Casey is an icon of Christ for all Catholics but most particularly for those in Southeast Michigan with whom he shares a personal connection," writes Tim, July 30.
"Here is a man who hardly left the monastery on the east side of Detroit, yet he is known all over Michigan.  This popularity is the result of his heroic humility and his trust in God.  He accepted the position of doorman at the monastery in complete humility. He was right where God needed him to be.  Thousands of people found him there where he would greet them and share with them God's mercy and peace, and his own trust in the Lord, many times resulting in a miracle."
"As I have worked in several parishes around the Diocese of Lansing I have met a number of people who met Father Solanus Casey as a child and received a blessing from him.  The details vary, of course, but in each case a parent had taken them and their siblings to him for a blessing and sometimes looking for a miracle.  I met one man whose brother was healed of a debilitating illness by Father Casey's prayers. The man was eager to share his story and praise the work of God through his humble servant.  The memory of Blessed Solanus Casey lives within our own Diocese; this memory of what Christ was in him and can be in each of us."
Have a very happy and holy feast day! Blessed Solanus Casey, pray for us!