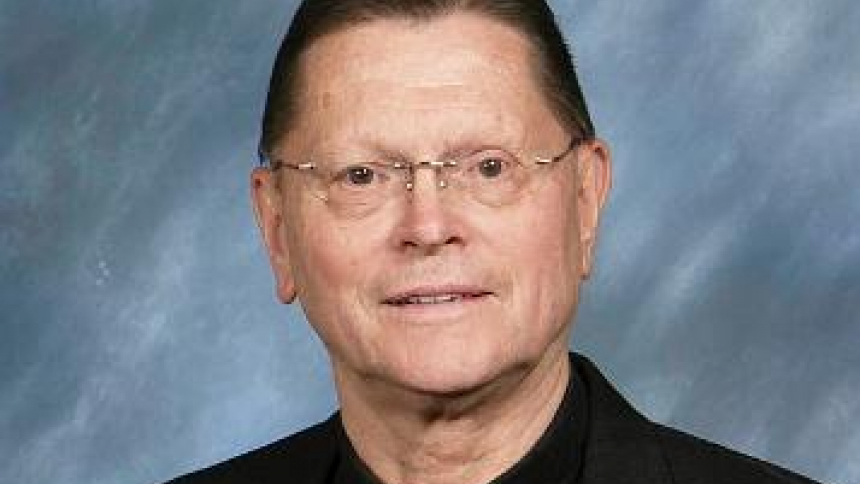 The Diocese of Lansing regretfully announces the death of Father James Lothamer P.S.S. who died on Friday, November 1, the Solemnity of All Saints. He was 76 years old. May he rest in peace.
"Father James Lothamer was a very bright man who used his intellectual abilities for the service of the Society of St. Sulpice and the various communities they serve," said Bishop Earl Boyea of Lansing, November 4.
"But even more he was so generous with his pastoral ministry here in our diocese. I give thanks to God for such a good priest."
James William Lothamer was born in Coldwater, Michigan, on November 9, 1942 to John and Helen Lothamer (née Cox), the second child of a family of 14 siblings.
As a young man, James Lothamer attended Coldwater St. Charles School before entering St. Charles Seminary in Columbus, Ohio, where he received his undergraduate degree. He completed his seminary training at St. John's Seminary in Plymouth, Michigan. Prior to his ordination to the holy priesthood, he joined the Society of St. Sulpice, a French order of priest teachers that conducted higher education for priests and laity throughout the world.
Fr. Lothamer was assigned to St. Mary's College in Baltimore, Maryland, where he remained for 20 years. While in his teaching and administrative duties at St. Mary's he took a sabbatical to the University of Toronto where he earned doctorate degrees in Theology and Philosophy.
Returning to Michigan in the early 1990's, Fr. Lothamer served as both pastor and intermediate pastor in numerous parishes: St. Joseph, Adrian; St. Agnes, Fowlerville; St. John Student Chapel, East Lansing; St. Mary, Pinckney; St. Mary, Charlotte; St. Ann, Bellevue; St. Mary, Bronson; St. Mary, Morrice. He also had three years on the staff at St. Patrick's Seminary & University in Menlo Park, California.
His life of service as priest, teacher, friend, and family member, saw Fr. Lothamer lead a life focussed on the importance of the mystical love of God, community, and social action. Possessing both eloquence and intellect, he was also widely recognized an effective homilist.
Among Fr. Lothamer's other loves were study, travel, good company and family ancestry. Connecting his American family with their European counterparts through his language skills, he cemented many family ties. He delighted in sitting in the French/German countryside sharing conversations and a glass of wine with his European cousins.
Closer to home, Fr. Lothamer was well loved by his large family. He knew each person from the oldest to the youngest and, as one nephew shared, "He was always nearby".
Fr. Lothamer's is survived by his sisters, Susanne Colligan, Sharon Harrington, Rose Bonvillain, and Helen Malinowski; his brothers, Peter, Jesse, Timothy, Simon, Joseph, Patrick, Jerry, and Christopher. He predeceased by his brother, Jack; and his parents. R.I.P.
The funeral arrangements for Fr. Lothamer are as follows: The Holy Rosary will be recited at 4:30p.m. on Thursday, November 7 at the St. Agnes Church in Fowlerville, Michigan, followed by a visitation from 5-7pm with a Vigil Service starting at 7p.m. On Friday, November 8 there will be a further visitation at the St. Agnes from 5:30 - 6:30p.m. followed by a Requiem Mass at 6:30p.m. Then on Saturday, November 9, there will be a prayer service at St. Ann Church in Bellevue at 10.30 a.m. preceded by a visitation from 9:30 to 10:30a.m. Interment will then follow at The Riverside Cemetery in Bellevue.
If desired, the family suggests memorial contributions be made to The Lothamer Family Burse of Zambia, with checks payable to The Society of St. Sulpice. Mass cards and other sympathy cards may be sent to the St. Agnes Church in Fowlerville.
Father James Lothamer P.S.S., Ph.D. (1942 – 2019). R.I.P.