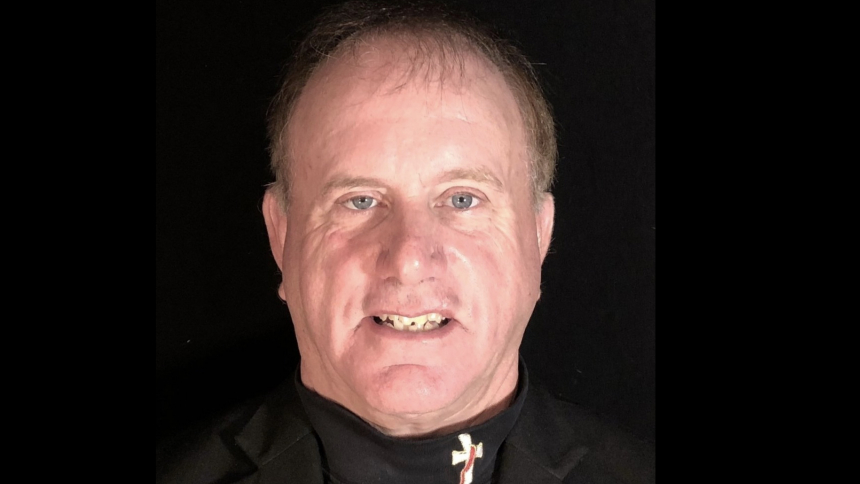 Of your charity, please pray for the repose of the soul of the Reverend Mister Dave Lawrence, Deacon of the Diocese of Lansing, who died on Sunday, July 5, 2020. He was 66-years-old. May he rest in peace.
David Paul Lawrence was born on January 22, 1954, in Flint, Michigan to Donald and Bonnie (Laurent) Lawrence. David married the love of his life, Janet Nelson, on August 11, 1984, in Ann Arbor, Michigan.
After graduating from Western Michigan University as a collegiate athlete in 1976, he served for 3 years with the Fellowship of Christian Athletes in Columbus, Ohio, after which he began teaching at St. Thomas the Apostle school in Ann Arbor.
In 1991, the Lawrence family moved to Kalamazoo where Dave became the head football coach at Mattawan High School. He also taught social studies there for 14 years. His family recall that coaching football and track were two of Dave's greatest passions. But above all, they say, he loved the relationships that were formed by the love of competition. He was on the board of Directors for the Michigan High School Football Coaches Association and organized annual leadership conferences.
In 2005, Dave began teaching at Fr. Gabriel Richard High School in Ann Arbor where he taught theology, physical education, and coached football and track for the last 15 years of his life. There, he instituted the highly popular Tournament of Champions, with its coveted prizes of athletic glory, Gatorade, and T-shirts.
Dave Lawrence was ordained to the permanent diaconate on May 16, 2009 for the Diocese of Lansing and served St. Patrick's Parish in Brighton where he attempted to inspire parishioners with his preaching and prayer. He also assisted at Holy Mass and, indeed, proclaimed the Holy Gospel at Sunday Mass on July 5, just hours before he died.
Deacon Dave was a member of an ecumenical charismatic community called the Word of Life which emphasizes a deep personal relationship with God through the workings of the Holy Spirit. He took part in men's groups and initiated Bible studies with both his peers and his students. He was very involved in numerous ministries, including teaching Sacred Scripture and catechism to inmates at the county jail and helping to rehabilitate former prisoners. He had a great tenderness for people with special needs, and for many years he served with Special Olympics as a volunteer.
At Father Gabriel Richard High School, Deacon Dave frequently preached at weekly all-school Masses and participated in countless school retreats. Fondly known as "Deacon" by the school community, he loved his students and prayed for them every day by name. He attempted to instill in them a love for prayer, especially in the "classroom of silence."
Deacon Dave was a great advocate for strong marriages and family life and volunteered in numerous marriage counseling ministries. One of his primary charisms was his hospitality. He and Janet frequently hosted families for dinner in their home and promoted the family celebration of the Lord's Day.
In 2011 he went on a pilgrimage to the Holy Land with his fellow deacons and their wives, traveled to Rome in 2014 for the canonization of Pope Saint John Paul II, and organized and led a pilgrimage to the Holy Land in January 2020. His mission was always to introduce others more fully to the Gospel of Jesus Christ.
Deacon Dave Lawrence is survived by his wife Janet Lawrence; his children, David (Alison) Lawrence, Fr. Peter Lawrence, Paul Lawrence, Anne Lawrence, Cecilia Lawrence, Mary Lawrence, Catherine Lawrence, and Rachael Lawrence; sister, Nancy Lawrence; grandchildren, Gianna Lawrence, Naomi Lawrence, Dominic Lawrence, and Charles Lawrence. He is preceded in death by his parents, Donald and Bonnie Lawrence. Funeral details for Deacon Dave can be viewed by clicking the link below:
https://www.borekjennings.com/obituary/DeaconDavid-Lawrence
Eternal rest grant unto him, O Lord, and let perpetual light shine upon him. May his soul and the souls of all the faithful departed, through the mercy of God, rest in peace. Amen.