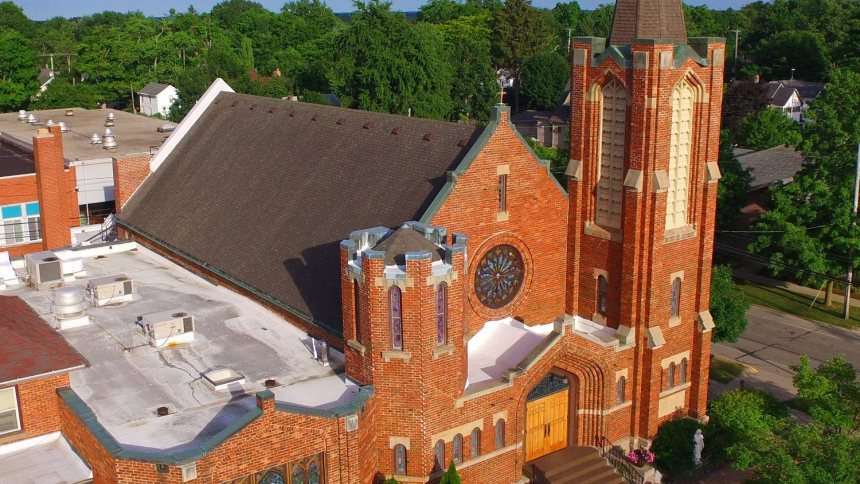 A parish community within the Diocese of Lansing has decided to take a legal stand to protect the constitutional right of all Catholic parishes and schools in Michigan to freely live and teach the Catholic faith.
The move by Saint Joseph Parish in Saint Johns, Clinton County, comes in response to a recent ruling by Michigan Supreme Court which re-defined the term "sex discrimination" in the state's 1976 Elliott-Larsen Civil Rights Act to include claims of discrimination based upon sexual orientation or gender identity but without any exemption for religious organizations like Saint Joseph.
"Saint Joseph parish exists to pass on the Catholic faith to the next generation and to accomplish that mission, it asks all its staff to uphold the Catholic faith in word and deed, both at the parish and its elementary school," explained Lori Windham, Vice-President and Senior Counsel of the non-profit Becket Fund for Religious Liberty, which is representing Saint Johns in the case which was lodged yesterday, December 5, in U.S. District Court against the Michigan Attorney General the State's Department of Civil Rights.
"Michigan's recent redefinition of sex under state law threatens to undermine this religious mission by making it illegal for Saint Joseph to follow the 2,000-year-old teachings of the Catholic Church on sex, gender and marriage."
The lawsuit filed by Becket highlights various scenarios where the new interpretation of the state civil rights act could undermine Saint Joseph's constitutional right to religious liberty as enshrined in the First Amendment to the US Constitution.
For example, it notes that Saint Joseph may be held liable for "sex" discrimination whenever biologically male students desire to use the female locker room or play on a female sports team, or whenever a biological male attendee at Holy Mass wants to use the female restroom.
The same could be true, states the legal submission, whenever someone would want to host a same-sex wedding at Saint Joseph or have a wedding reception at the Knights of Columbus Hall with which Saint Joseph is related and is only a mile from the parish.
"We filed a lawsuit to protect Saint Joseph's right to live out its faith as a religious institution. Michigan cannot force the Catholic Church to compromise its religious character simply because its doors are open to all," says Lori Windham.
Since 1857, Saint Joseph has served the local Catholic community of St Johns as the only Catholic parish in town. In 1924, Saint Joseph expanded and opened an elementary school —Saint Joseph Catholic School — to provide children in the area with a Catholic education rooted in the teachings of the Church. The school presently offers PK to 6th Grade education to nearly 220 students with enrollment up 8% over the past 5 years.
"For almost a century Saint Joseph School has quietly and faithfully taught successive generations of children in the town of Saint Johns to become good, saintly and virtuous citizens who are formed by the teachings of Jesus Christ and His Holy Church on all matters of faith and morals," said Bishop Earl Boyea of Lansing in support of the parish of Saint Joseph, December 6.
"I therefore fully support the parish community of Saint Joseph in seeking this important legal ruling to ensure that they – and all Catholic schools and institutions in Michigan – remain protected by the First Amendment to the US Constitution in order to continue their God-given mission into the next century and beyond."
For more information go to: https://www.becketlaw.org/case/st-josephs/