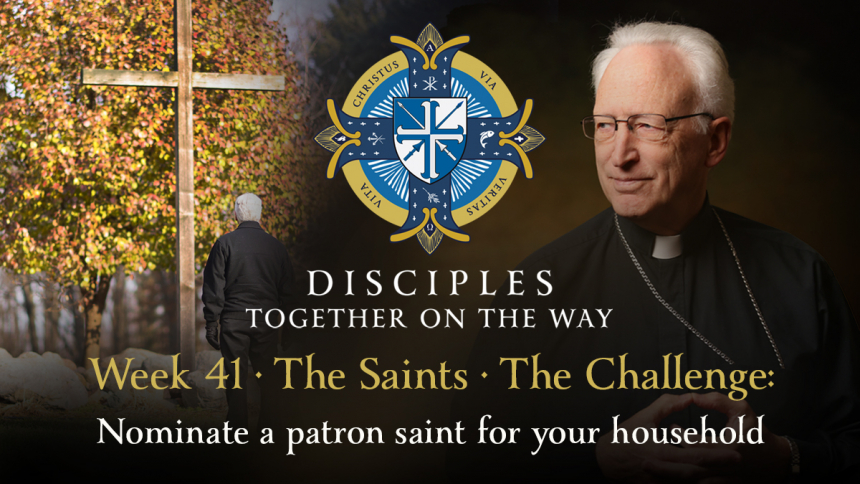 October 14, 2022
Dear Brothers and Sisters in Christ,
Welcome to Week 41 of Disciples Together on the Way and Week 3 of our journey with the saints. This week, let us particularly focus on patron saints.
We are so blessed to have the saints in Heaven praying for us. A patron saint is someone in Heaven who intercedes for us; like a friend who prays for us here on Earth, but who doesn't have imperfections and sin clogging up their communications. Many individuals, families, and organizations have patron saints. How do you find a patron saint? Many of us are given patron saints by our parents who name us after specific saints. Many of us choose a patron saint during confirmation, or we choose one because we can relate to the life-story of a specific saint. My confirmation saint, for example, is Dominic Savio, the 19th century young Italian who was a close disciple of Saint John Bosco. Sometimes, a specific saint chooses us or our family. It's not uncommon for a person or family to have a Saint who repeatedly "pops up" in prayer, family events, birthdays, devotionals, etc.
So, here's my challenge for this week: If you don't already have a patron saint for your household, then I encourage you to nominate one. Is there someone who exemplifies the goals your household has? Was he or she particularly generous, kind, or courageous? Maybe he or she suffered with such dignity and joy that your household finds encouragement during their trials. Of course, it is always best to turn to God and ask Him who He would like to nominate. The Lord knows your household best and can choose the best-suited saint in Heaven to intercede for you.
If you are living with family members, try having a conversation about this with them. If you live alone, perhaps bring a couple of names in prayer to the Lord and have him select one for you.
God bless you in your prayerful discernment of your family patron saint. Until next week: May God bless you, in the name of the Father and of the Son and of the Holy Spirit. Amen.
Yours in Christ,
+ Earl Boyea
Bishop of Lansing