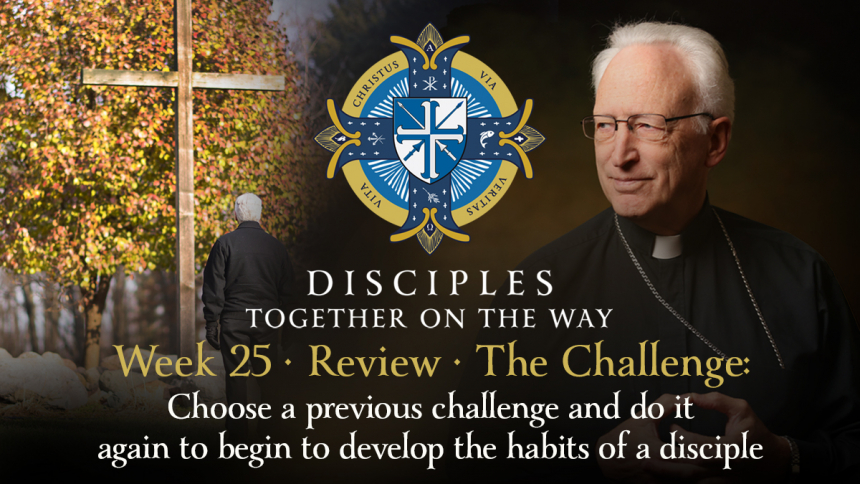 June 24, 2022
Dear Brothers and Sisters in Christ,
We are now well into the second third of our yearlong pilgrimage as Disciples Together on the Way. Congratulations and thanks for staying with your commitment. From our beginning in January, we have made it to the summer! As with any long trip, however, it makes good sense to pull over from time to time and see how the journey is going so far.  Maybe there is a need to stretch the legs, have a bit of refreshment and be certain we haven't lost anything along the way.
With that sense of journeying together for the long haul, this week I invite you once again to look back and choose a challenge from the previous weeks and engage in it again.  It could be a challenge which you struggled with before. Perhaps now will be the right time, with God's grace, for success.  Being willing to re-challenge ourselves is a sign of growth in developing the habits of a disciple.
Hopefully there was a challenge in the past months which brought you joy, peace or a new closeness to the Lord. Maybe you lived Lent in a new way through renewed prayer, sacrifice, or the Stations of the Cross. It could be that a relationship was rekindled through your prayer or deliberate thanks. If there was a challenge you wanted more of, pick it up again and work towards keeping it as a lasting habit.
Regardless of what you choose to revisit this week, know that the on-ramp to the road of discipleship is never closed for repair.  The love of God invites us back after every falter, flat tire, or detour.  Enjoy the journey, we are in this together!
And may God bless you in the name of the Father and the Son and the Holy Spirit. Amen.
Yours in Christ,

+ Earl Boyea
Bishop of Lansing