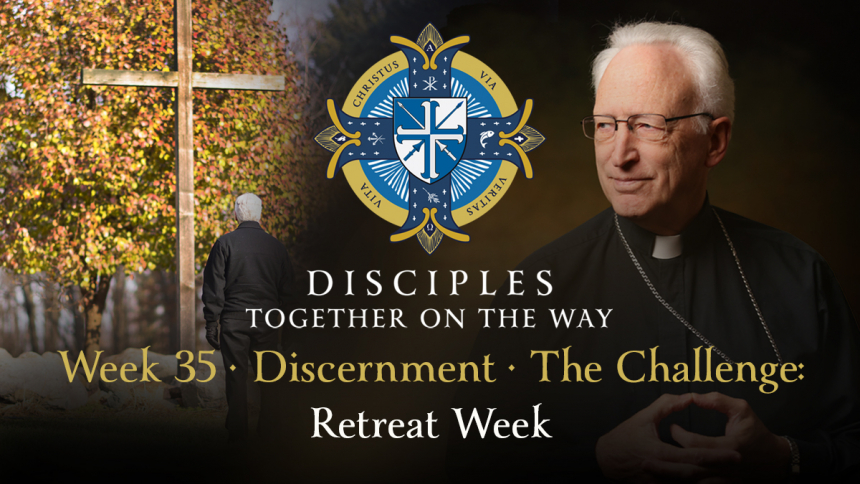 September 2, 2022
My sisters and brothers in the Lord,
There's a well-known joke about an American tourist in Ireland who asked one of the locals for directions to Dublin. The Irishman replied: "Well sir, if I were you, I wouldn't start from here".
In terms of travelling towards knowing God's will for our life, however, we have to start from here. We don't really have a choice. How, though, do we best discern our direction of travel and final destination?
For bishops and other clerics, the answer is quite clear. Canon Law insists we make a yearly retreat. That's time away from the business of daily life, often in solitude, often in silence, often directed by a spiritual guide.
All of us, though, are called to holiness. Sisters and brothers, we are all called to be saints! Hence, it is good that we all make a retreat in order to discern God's call in our lives. And that's exactly what we'll do over the next four weeks as Disciples Together on the Way. 
I'm sure we can think of times in our lives when we weren't working to be close to our Lord.  Maybe when we've thought, "If I get too close to God, he will squash my fun plans, take something away from me that I don't want to give up, or lead me down a path I don't want to go down." Let's pause just a moment to remember one of those times or seasons of our life when we mistrusted God and his good plans for us. 
Many times it takes a true encounter with God, an experience of his goodness and love, his "better plan" for our lives, before we actually start trusting that maybe…just maybe, the God of the universe who created you and me, can in fact be trusted and does have better plans for us than we can possibly conjure up for ourselves.  Let's take another minute now to remember a time in our lives in which we did in fact experience God's "better plan" for us in some way.  A time when we started to trust God a bit more in our life. 
If God is who he says he is throughout the Scriptures, we come to know and truly believe that he in fact is a Good Father who gives us even better gifts than any exceptional earthly father or mother could possibly give.  Why then should we hesitate to learn how to draw closer to Him, trust him with our lives, seek his plans and follow where he leads us in the small decisions that we need to make, like what car or house to purchase, as well as the big decisions, like discerning the person we are called to marry or the religious order that we are called to enter? 
If we would only believe and trust whole-heartedly the "good plans" that the Lord has in store for each of us, we would take these words from Jeremiah as our own: 
"For I know the plans I have for you," declares the Lord, "plans to prosper you and not to harm you, plans to give you hope and a future. Then you will call on me and come and pray to me, and I will listen to you. You will seek me and find me when you seek me with all your heart. I will be found by you," declares the Lord (Jeremiah 29:11-13).
We would also believe the words from David in Psalm 37: "Take delight in the Lord, and he will give you the desires of your heart.  Commit you way to the Lord; trust in him and he will do this: He will make your righteous reward shine like the dawn, your vindication like the noonday sun.  Be still before the Lord and wait patiently for him;" (Psalm 37:4-7)
Once we trust in the Lord, we will desire to know what he wants us to make of our lives. This is what is known as discernment.  Trusting in the Lord's love and goodness for us, we will pray better and be more sensitive to God and the spiritual movements in our lives. We will be aware of this activity of God and we will begin to distinguish the voice of the Lord from other voices, including the voice of the Enemy of human nature.  This will lead us to make better decisions in response to the spiritual promptings we have. 
St. Ignatius of Loyola calls this spiritual wisdom and sensitivity, "The Discernment of Spirits," and he has some rules for learning how to discern the working of God in our lives. Christian discernment is a weighing of multiple good decisions in our lives to seek the best one that will bring the greatest glory to God and fulfillment in our lives. St. Ignatius' motto should become our motto as well: Ad majórem Dei glóriam. For the greater glory of God.
So now, to develop this kind of discernment we must work more deeply at our daily prayer so as to become more aware of his presence in our midst and thus hear his word to us and his will for us.   
So, now here is what we will be doing: this week and for the next 3 following weeks we will be going on retreat.  The busy person kind of retreat. So, early every morning for 30 days we'll text you an installment of a 30-day Ignatian retreat that has been developed by St. Mary Catholic Center at Texas A&M University. It is called Taking Back the Crown and was created to reach out to students.
I hope you find it worthwhile. Indeed, I encourage you to be open and receive the beauty of starting your day with each daily podcast that will lead you to grow closer to the Lord in your day. 
As we go through these weeks together, I will also continue to share with you in my opening introduction to each week, more "tools of discernment" so that we will learn to discern the greater glory of God for our lives. May God bless in the name of the Father and of the Son and of the Holy Spirit. Amen.
Yours in Christ,
+ Earl Boyea
Bishop of Lansing