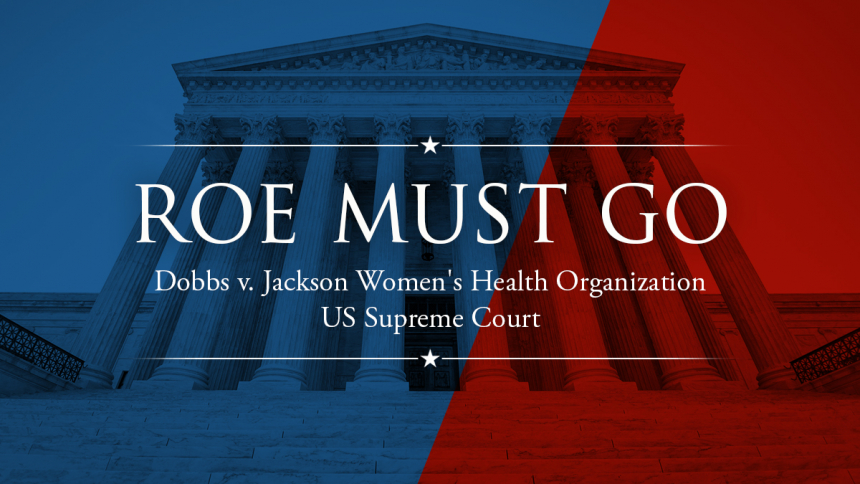 "Abortion is murder: the Church cannot change its position" - Pope Francis, September 2021
On December 1st 2021, the U.S. Supreme Court heard the Dobbs v. Jackson Women's Health Organization (AKA Dobbs). This case is different from past Supreme Court cases in that the central holding of Roe, that abortion is a fundamental right secured by the US Constitution, is being challenged. There is a very real possibility that Roe will be overturned. This page is here to help you stay up-to-date on what is going on with the case and to give you resources.
Understanding the Case
The State of Mississippi enacted a law, the "Gestational Age Act" which makes elective abortions illegal after 15 weeks except in cases of severe fetal abnormality or the life of the mother. This act was challenged by Jackson Women's Health Organization, Mississippi's sole abortion provider. The Act was enjoined by the 5th Circuit Court. It directly challenges the central holding in Roe v. Wade that there is a fundamental right to abortion found in the Constitution of the United States. The Supreme Court did not need to take this case, but it did. Many legal analysts believe that the case was taken by the Supreme Court specifically to overturn Roe's central holding. To better understand the case, please see these resources:
Podcasts:
First Things with Robert George
National Catholic Bioethics Center 
Articles:
https://www.firstthings.com/web-exclusives/2021/07/roe-must-go
https://www.ncregister.com/commentaries/revisiting-roe
Prayer and Fasting
[Jesus] said to them, "This kind can only come out through prayer and fasting." - Mk 9:29
On December 1st, the Supreme Court heard oral arguments in the Dobbs case. We expect that the Court will release its ruling in June 2022. We are asking everyone to pray for the Supreme Court Justices, that the Holy Spirit will guide their decision and that the Court will find that there is no fundamental right to abortion found in the US Constitution. Also, for the unborn to be recognized as Constitutional Persons and for peace and healing.
We also recognize that no matter what the ruling is, there will be angry people. We ask for continued prayers for all those who support abortion; that their hearts and minds may be transformed and that they will embrace each life with joy and anticipation.
Ideas for Prayer and Fasting for Parishes and Individuals
Eucharistic Adoration
Fasting (Ash Wednesday Style)
Communal or individual Rosary
Communal or individual Divine Mercy Chaplet
Offer your Mass 
Almsgiving to a pro-life organization or crisis pregnancy center
Prepare
We understand that this monumental case has the full potential to make abortion illegal at the federal level. This would mean that abortion would instantly become illegal in almost every case in the State of Michigan. We know that it is important for Catholics to prepare to lovingly welcome moms and assist them with their needs. We will continue our efforts to walk with moms as well as prepare our parishes for life without legalized abortion. Please stay tuned to this webpage for more information.
Pro-Abortion Petition Circulating
There is a petition in Michigan circulating right now called the Right to Reproductive Freedom (AKA Reproductive Freedom) initiative. Please do NOT SIGN this petition. This petition seeks to make abortion at all stages a Constitutional Right in the State of Michigan. It only needs 450,000 signatures by July 11, 2022 to appear on the ballot this November (2022). Once in the Constitution, abortion will be in Michigan forever. It is very important that our parishioners understand this because the language of the petition is very deceptive. Bishop Boyea and the other Michigan bishops are all opposing this petition, with Bishop Boyea stating that signing it "is to place oneself in danger of grave or mortal sin because of this active and direct cooperation with evil." Please see our Decline to Sign Page
Walking with Moms
Quick Facts - Michigan Abortion Statistics 
According to the State of Michigan Abortion Data for 2020*:
3,359 induced abortions were performed in the Diocese of Lansing
20.5% of all pregnancies in Genesee County ended in induced abortion
3 of the 9 largest counties in Michigan where induced abortions occurred are in the Diocese of Lansing
*2020 is the most recent data available
Page Last Updated: April 6, 2022