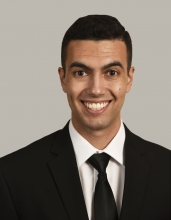 St. Peter's Church
515 E. Knight Street
Eaton Rapids, MI 48827
United States
Hello, my name is Jerry Robinson, and I'm a parishioner at St. Peter in Eaton Rapids. God has blessed me with an amazing family, and a wonderful parish. I felt the calling to the priesthood at the young age of 4, at which time I had no idea what it was, but little did I know God planted a seed that would very quickly grow into a deep burning passion for Christ and His Church.
I am now studying at St. John Vianney College Seminary. The community and brotherhood here is an absolute blessing in my life. Every morning we start off with a holy hour, and to start the day off with Jesus, brings a whole new perspective and attitude to your day. I look forward to growing closer to God in my time here and listening attentively to the will of The Father.
"Speak, Lord, for your servant is listening" 1 Samuel 3:9