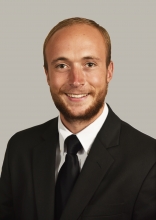 The Catholic Community of Saints James, Cornelius and Cyprian (includes Sts Cornelius & Cyprian Oratory, Leslie)
1010 S. Lansing Street
Mason, MI 48854
United States
I am the youngest of five children, born to Christine and Joel Ingle, who have been happily married for over 40 years.  Growing up on a farm taught me great responsibility, as I had to work to help my parents and siblings with various chores and tasks.  My family is very important to me and has been a positive influence on my life and my faith.  Growing up, I played on as many sports teams as I could.  Living an active lifestyle is important to me and helps me to remain focused on my academics and spiritual development.  I enjoy going outside hiking, camping, and backpacking every opportunity that I have.  Walking in the silence of God's creation allows me to prayerfully contemplate the abundant blessings that He has showered on me.
My intentional vocational discernment began near the end of high school.  It was then that the Lord began to stir up thoughts of His calling in my mind.  Numerous promptings from the Holy Spirit through fellow parishioners, family, and friends led me to explore a vocation to the Priesthood.  While initially I disregarded these invitations, I began to wonder if these people were seeing something in me that I was not yet able to see.  Perhaps God was revealing to them the vocation that He had been trying to open my eyes to all along.    As the attractiveness to the Priesthood continued to grow, so did my participation in the Holy Sacraments.  Frequent reception of the Sacraments was the key that showed me God's immense love for me.
Hope is the conviction that God will keep His promises.  The Lord provides continuous hope for the future of the world, trust in Him.