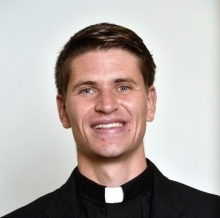 SS Charles & Helena Church
230 East Vienna Street
Clio, MI 48420
United States
I was baptized on May 18th, 1997 at the age of four.  Following my baptism, I went into Catholic education from kindergarten to twelfth grade.   I went to grade school at St. Mary's in Pinckney and for high school I attended Detroit Catholic Central in Novi.   I graduated in the year 2011 and headed to Ohio to begin my college studies.   I attend Wittenberg University which is a Lutheran liberal arts college in Springfield.   Before going there, I had not yet had a personal encounter with Jesus and my faith was very weak.   It was time to choose a major, but did not exactly know what I wanted to study.   Well,  with God's Providence I was led to taking some philosophy courses, which I became very interested.   
While in my junior year, studying abroad in Dublin, Ireland, I experienced the mercy and love of God for the first time. Prior to leaving for this trip, a priest, who had been a lifelong friend of my family, suggested I pray the rosary and visit Our Lady of Knock.   It was there, in Knock, where Our Lord and Mary knocked on my heart.    James 4:14 asks, "What is your life?"    I read that passage of scripture in Knock, and the reality of God filled my soul.   My journey to God really began after this intimate encounter with Jesus and in the sacrament of Confession.   I then began to ask God what His will was for me in this life.